SYNERGY For SUP Yoga
I have been using the Synergy yoga paddle board a lot and I have to say that I really love it. It is very stable, ultra comfortable and ideal even for the most beginner yogi who wants to take their yoga practice to the water.
Originaly posted on ISUPWolrd | by Allison MacLaughlan
The classic yet functional design allows for plenty of space to maneuver your feet and hands as you try out those yoga poses.
It has a wide 35″ center, which I found to be extremely helpful to stay balanced while I attempted my moves.  Normally I don't love boards that are so wide as they tend to be slugs in the water.
However I was pleasantly surprised how much I not only enjoyed using the Synergy iSUP for yoga but also for paddling and cruising around.
The tapered nose really helps to keep it gliding smoothly and although it's not fast, it is easy to paddle and a very comfortable and pleasant ride.
I had it out on calm lakes and even battled some heavy wind and chop.  It handled well and I always felt very secure on it.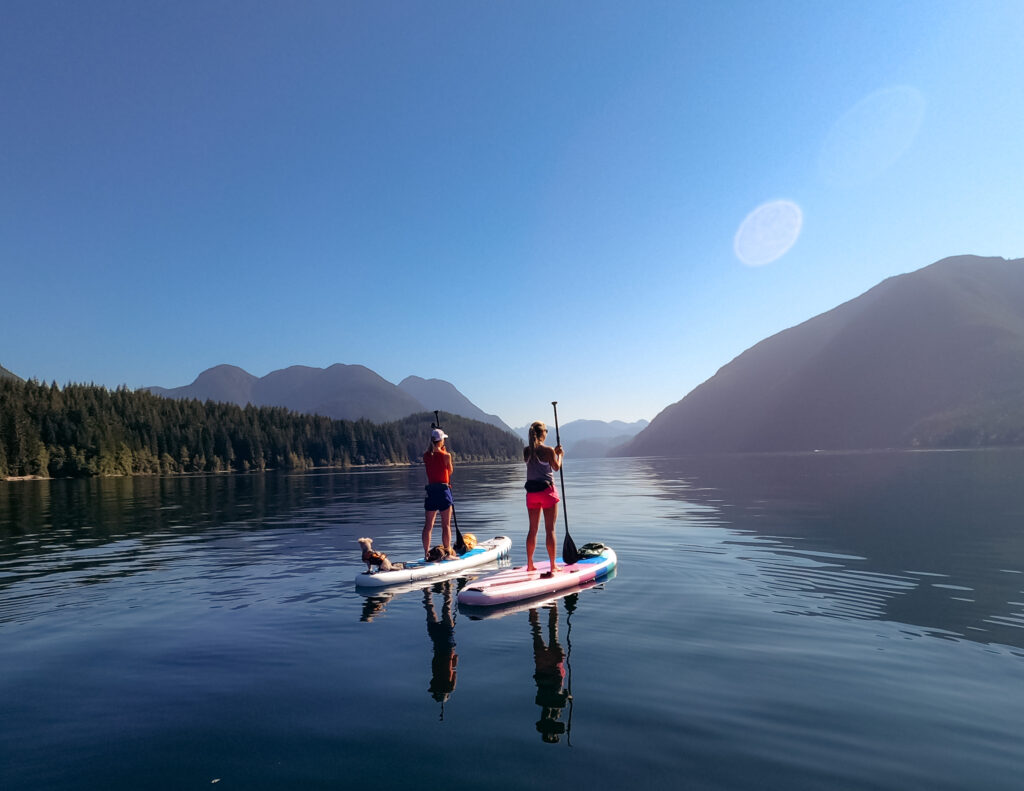 I have to of course mention the beautiful colours as well. This inflatable SUP really stands out in the water and looks fantastic in pictures.
I have gotten so many compliments on this board when I have taken it out, it is such a pretty board.
BEST SUITED FOR YOGA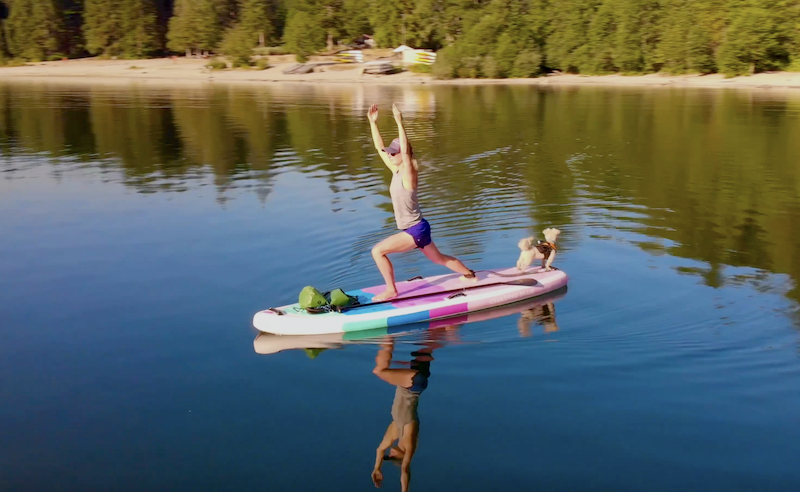 The Synergy is specifically designed for yoga but don't let that intimidate you. I have lots of experience paddle boarding but I am not super experienced in yoga.
I love to paddle but I also love to take some calm moments on the water to stretch and practice a few yoga poses. I am by no means an expert so I can tell you that the Synergy feels really good even for total beginners.
So if you are new to SUP and think you'll love how serene and peaceful it can be to practice yoga on the water, this board is perfect for you.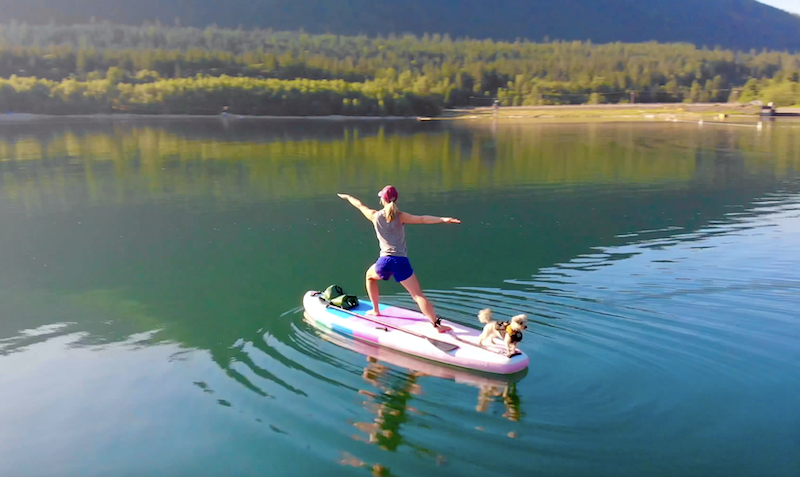 Even more experienced riders and yoga professionals will appreciate what this ISUP has to offer.
It's not easy doing yoga on a paddle board, it tests your balance and core muscles at a whole other level.
It is challenging yet fun and it offers the ultimate in peace and serenity… With possibly the odd fall/dip in the water to keep things interesting. 🙂
The Synergy can hold up to 350 lbs easily so it will appeal to people of all sizes and it works really well for bringing out the kids or your dog.
PERFORMANCE AND STABILITY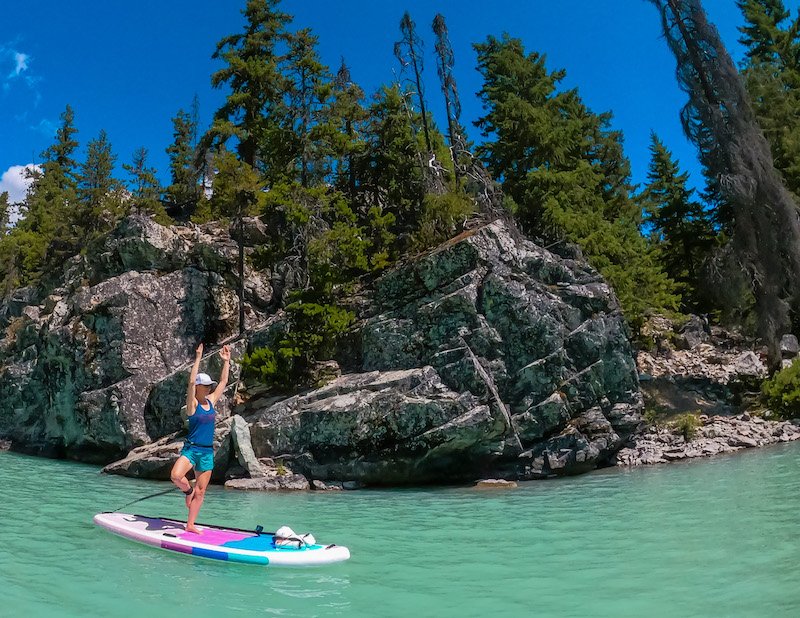 I think the shape and design of this board was well thought out to provide the right balance of stability yet decent glide to make this Synergy inflatable SUP perfect for yoga yet still fun to paddle.
It cruises along very smoothly. The wider width takes a little more effort to turn so it is not as quick to maneuver but for easy paddling on calm lakes, rivers or ocean bays it's perfect.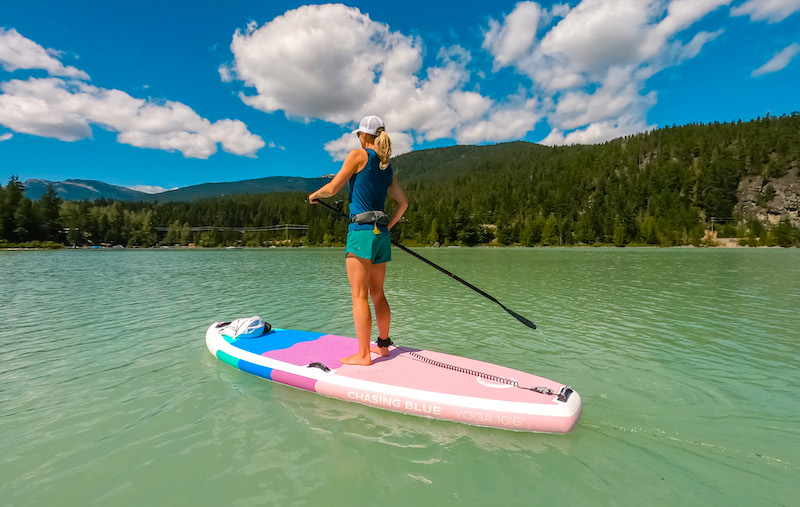 The tri fin setup also really helps with tracking and keeping the nose gliding in a straight line. I also really like the tri fin configuration for added stability.
The three fins help to keep the back end stable with no wobble.
It is probably one of the more stable yoga boards I have tried over the years. I noticed that I felt comfortable really fast on this SUP. I'd give it 5 stars for stability for sure.
IMPORTANT FEATURES
A yoga paddle board tends to be designed with slightly different features than you would find on other regular paddle boards.
BUNGEE SECTION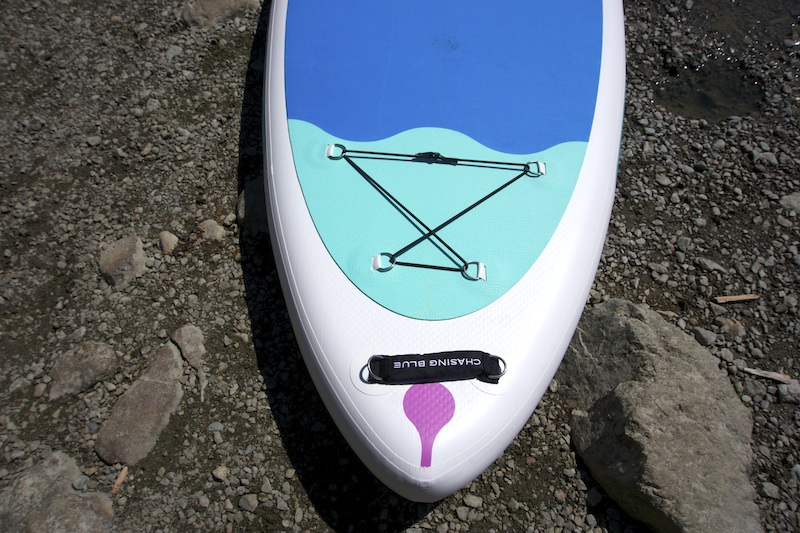 For instance, this board only has one small bungee section at the very nose of the board. The reason for this is so that the majority of the deck pad can be used for your yoga poses with no obstacles in the way.
I tend to like two sets of bungees and I found that when I was out paddling I missed having a back bungee section as well for storing gear.
However for doing yoga it makes total sense to not have back bungees and I did appreciate that when I was trying out my moves.
I used the front bungees for storing my dry bag, flip flops and water bottle.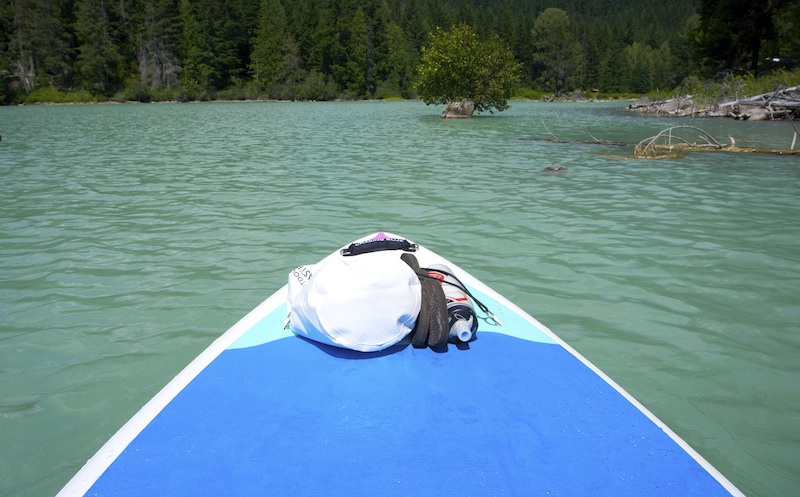 SIDE HANDLES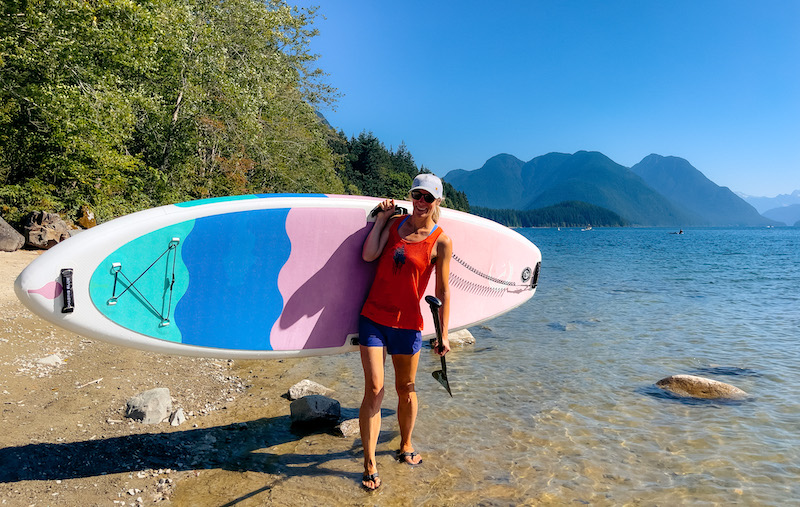 Another common feature on yoga SUP's is to have no center carry handle. Again the reason is to keep the deck pad clear so nothing disrupts your balance as you maneuver your feet and handles while doing yoga.
So instead there is a padded side handle on either side of the deck pad. These require you to carry the board slightly differently. It's not hard but I don't personally like to carry the board too far like this as it can get uncomfortable.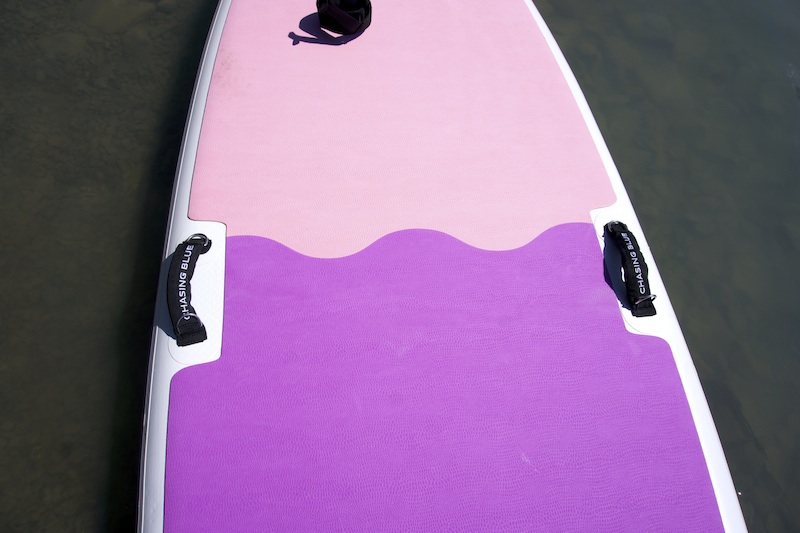 Sometimes yoga paddle boards will come with a should strap to make it a little easier to carry. This one does not include one and it certainly isn't critical but would be a nice added touch.
There is also a padded grab handle at both the nose and tail of the board that can be used to carry as well with two people if you choose.
REMOVABLE CENTER FIN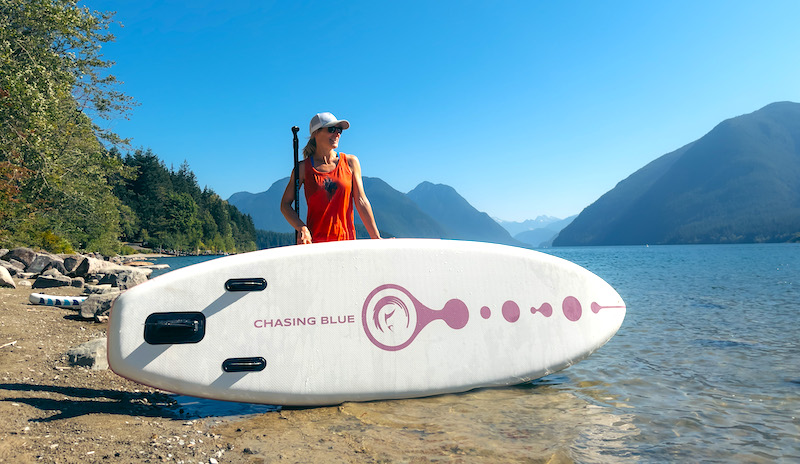 The Synergy has two attached smaller side fins and one larger removable center touring fin.
If you are paddling in very shallow water then you can simply use the two side fins.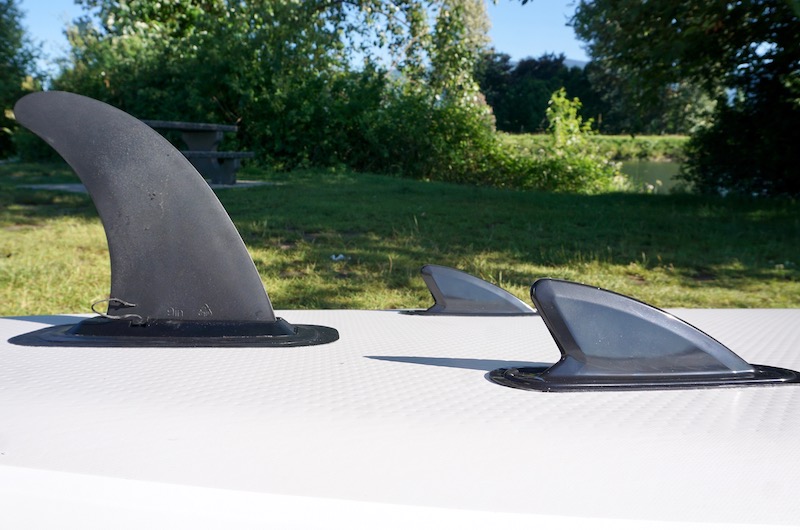 However for better tracking and stability securing the larger center fin really makes a difference.
The center fin easily clips into the fin box and only takes seconds to install (no tools required).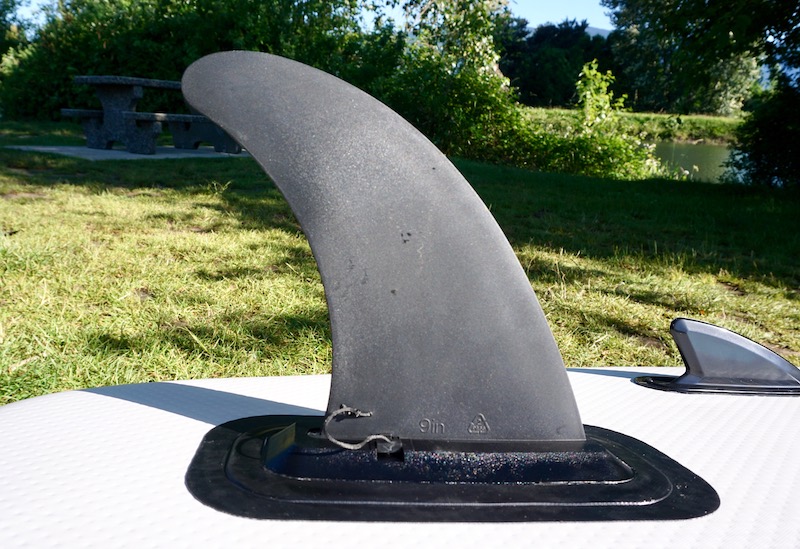 SOFT COMFORTABLE DECK PAD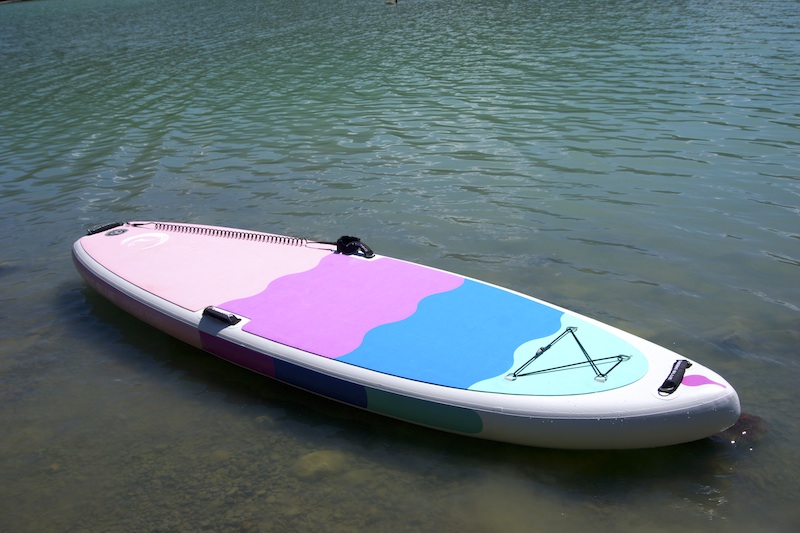 Another feature you will often see on yoga ISUP's is a smoother deck pad for added comfort when on your knees or hands for yoga.
The smooth deck pad feels great for doing poses of all kind plus it is also very comfortable when just lounging on the water.
A smooth deck pad won't offer as much grip as a more grooved deck pads but it's ideal for a yoga SUP.
DOUBLE SECURED VALVE
Chasing Blue includes a double secured valve on their boards that automatically releases air when the air pressure exceeds 15 PSI.
No worries here about over inflating or putting too much pressure on the seams.
INCLUDED IN THE PACKAGE
Chasing Blue includes a great accessory package as well that comes with lots of goodies. With your Synergy yoga board you will also get:
3-PIECE CARBON SHAFT SUP PADDLE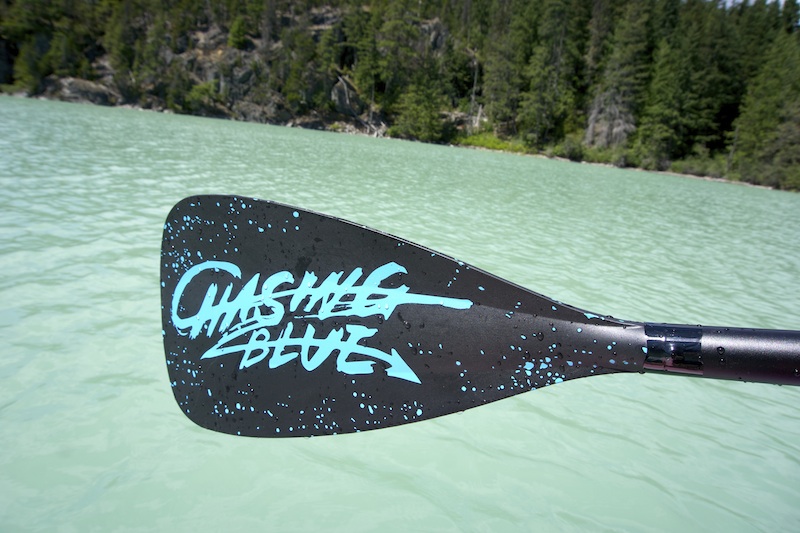 The paddle only weighs 28 oz. and is adjustable from 72″ to 86″.
It feels comfortable enough to use and is very durable.  Plus it floats!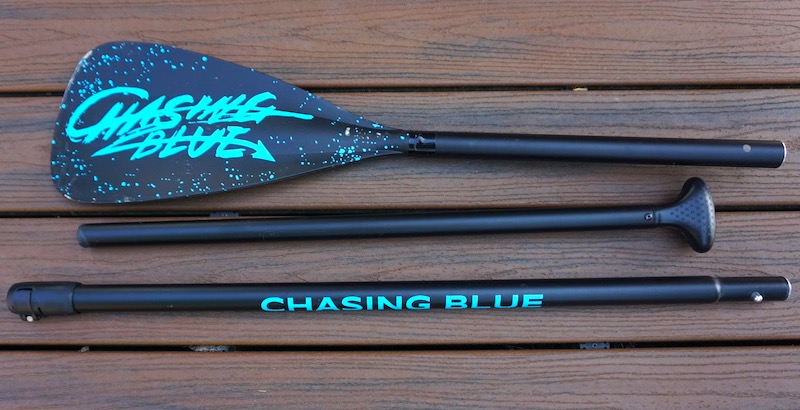 This paddle breaks down into three pieces making it easy to store inside the backpack.
DOUBLE ACTION HAND PUMP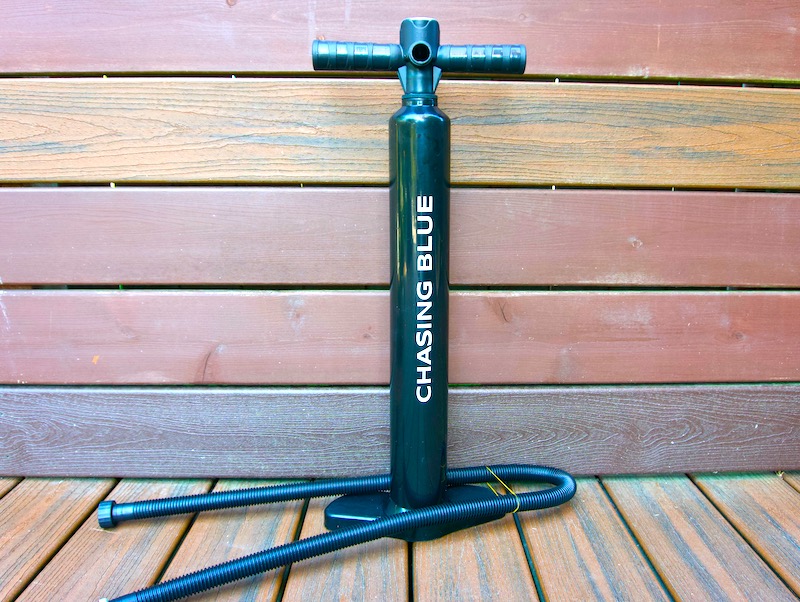 The hand pump works well and has a low pressure and high pressure mode to make it easier to inflate your board to 12-15 PSI.
The integrated pressure gauge makes it easy to watch your progress so you know when you have reached the right PSI level.
COILED SUP LEASH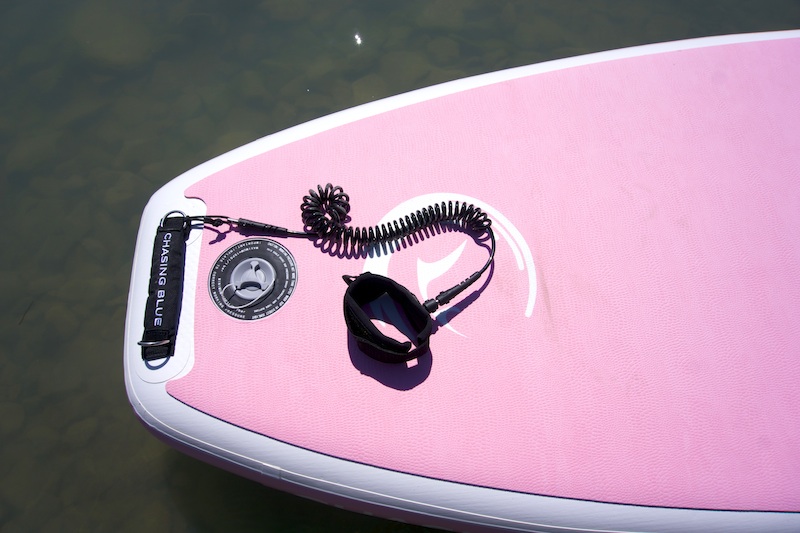 The SUP leash secures to the back D-ring on your board and to your ankle and will keep your board from being swept away if you should fall in the water.
ACTION MOUNTS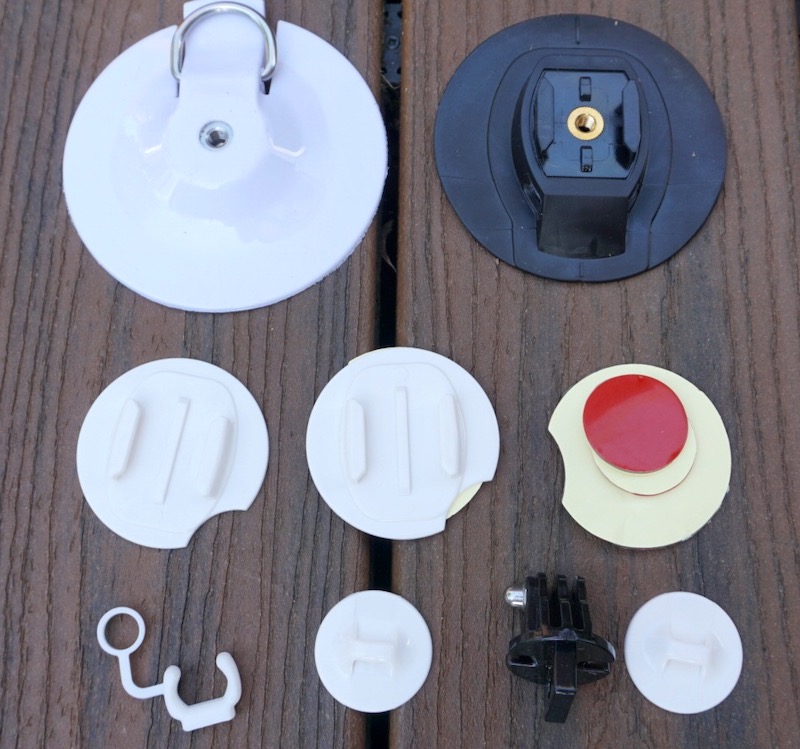 There are several action mounts included in the package that can be glued anywhere on your board to be able to use an action cam, phone holder or other accessories.
WATERPROOF PHONE CASE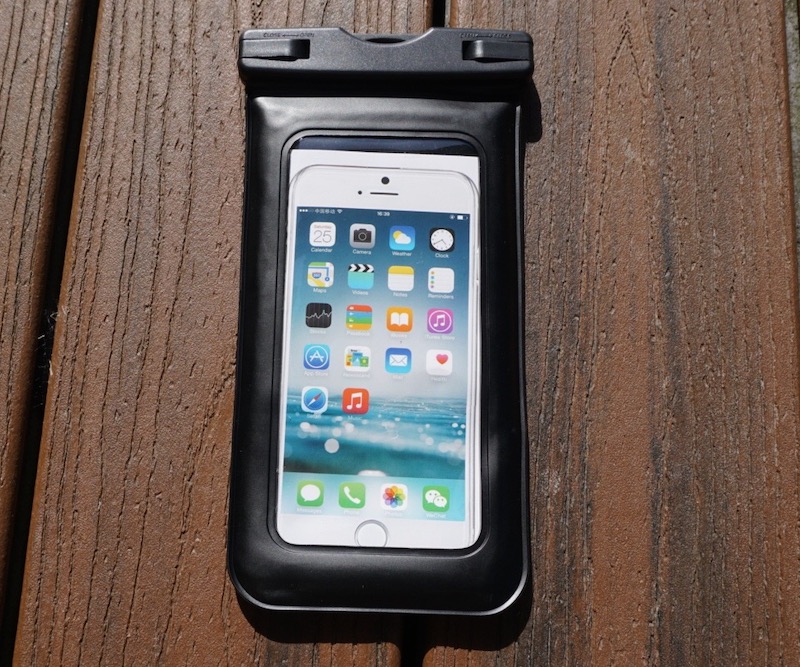 There is also a waterproof phone case in the package to keep your phone dry and protected while out on the water.
WHEELED BACKPACK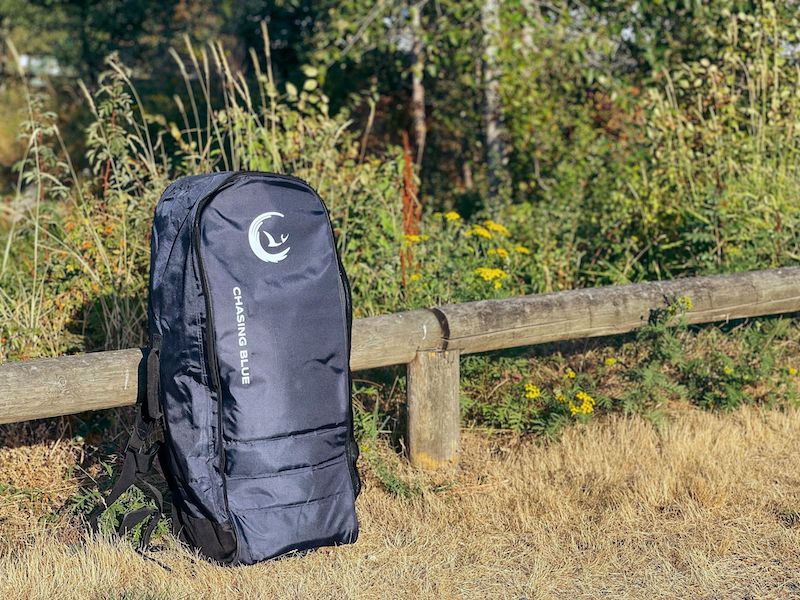 The backpack is interesting because it includes inner insulation to regulate the temperature inside the bag.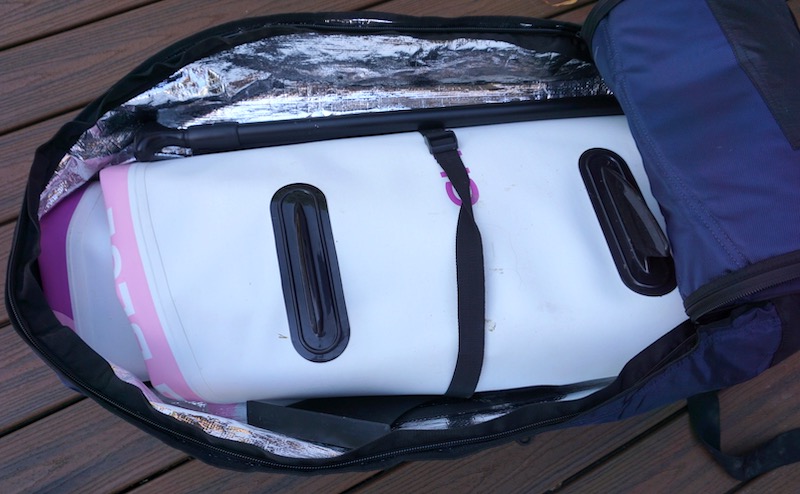 I haven't seen this before and it makes the bag a little crinkly sounding but helps to maintain a safe temperature for your board when stored away.
The bag zips open on all three sides with sturdy zippers making it easy to take the board out and put it away.
The bag is large enough to hold all of the accessories and includes padded shoulder straps as well as a waist strap.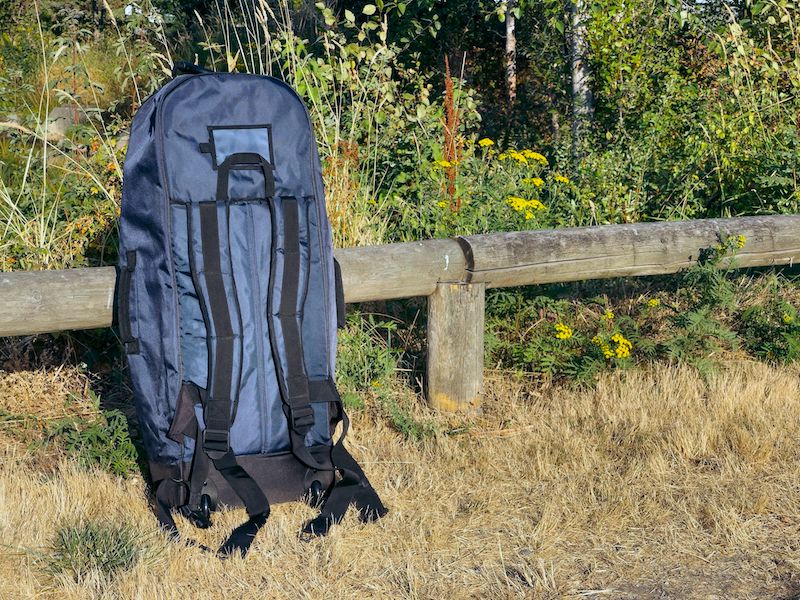 It has multiple carrying handles making it easy to lift the bag in and out of your vehicle and of course the wheels are awesome.
With the integrated wheels you can pull the bag like a suitcase making it extra easy to get your board to and from the water and perfect to take on your next traveling adventure.
REPAIR KIT
The repair kit includes a couple PVC patches, some repair glue and a valve wrench that can be used to tighten the valve on your board if it should ever come loose.
OPTIONAL 12V ELECTRIC PUMP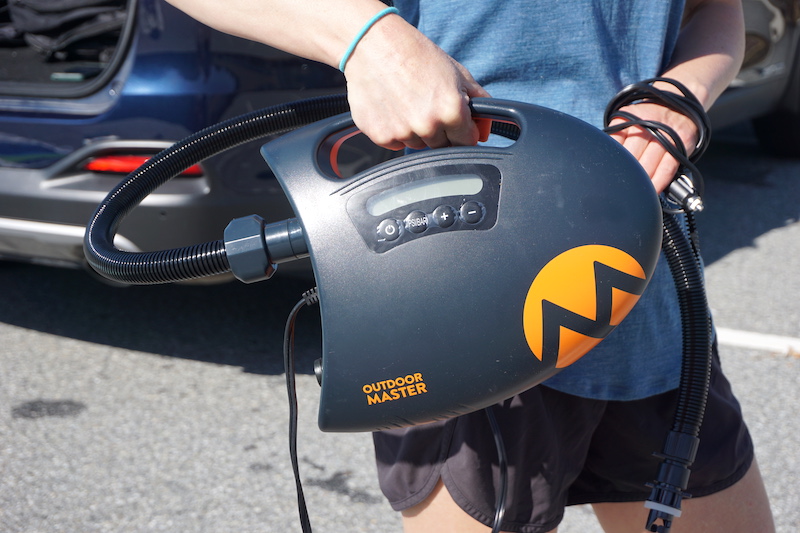 If you want to make it a LOT easier to get on the water then check out the Outdoormaster Shark II Electric Pump as well.
This pump works great and shuts off automatically when it reaches the set PSI level. Once you've tried an electric pump it's hard to ever go back to manually pumping. 😉
PROS AND CONS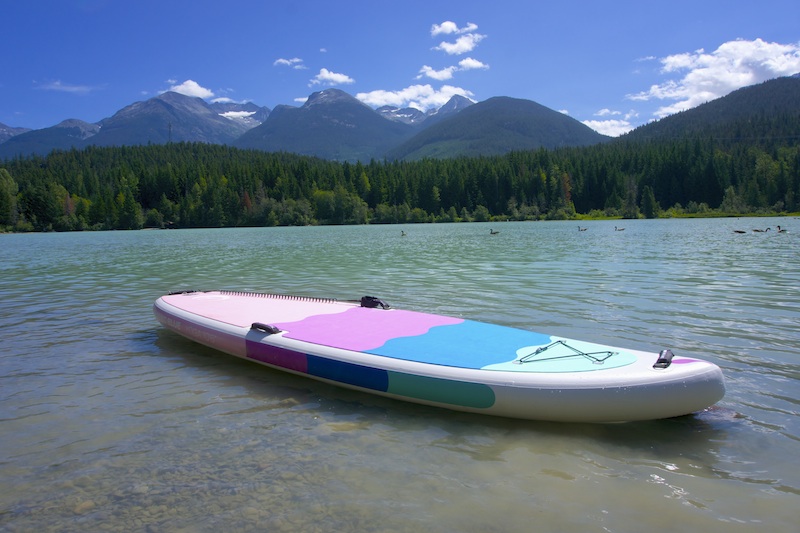 There are so many pros to this board and very few cons.
PRO:
Ultra Stable
Good glide
Nice Design
Front Bungees for securing gear
Smooth comfortable deck pad
Tri fin design with removable center fin
Padded carry handles
Impossible to overinflate with upgraded valve
Comes with good package
Includes 2 year warranty
Affordable price
CONS
No shoulder strap for easy carrying
No paddle holder to keep paddle secure and out of the way when doing yoga
WARRANTY
Chasing Blue offers a great 2 year warranty and very friendly customer service.
IN SUMMARY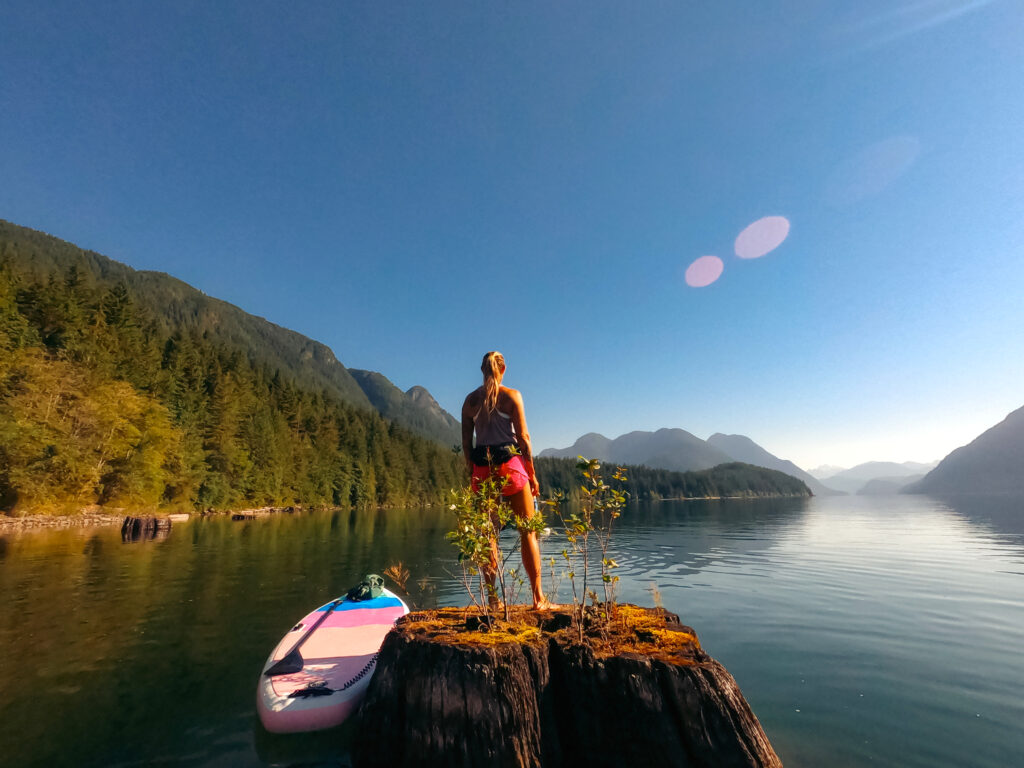 To wrap it up I personally think that if you're looking for a functional yoga board that won't break the bank yet is well made, durable, easy to paddle and stable then the Chasing Blue Synergy Yoga inflatable SUP is a really great choice.
I wouldn't hesitate with this board. I'll be getting a lot of use out of it and working on improving my SUP yoga skills.