Features
Color-Optimization Technology
Ultra XM Goggles featured with Color-Optimization Technology provides high definition optics by filtering part of the blue light and thus boosts the contrast and greatly improves color brightness. It has been proven to efficiently highlight irregularities with superior visibility, which helps to quickly recognize and steer away from bumps, crevasses, and other hidden dangers.
Super HD Technology
Luminous Refractive Pressed lens offers the premium clarity with great contrast enhancement. It largely reduces the refraction which allows the focus to fall precisely on the retina. This innovative feature would let you easily see everything crystal clean with less eye strain.
In-House Designed ULTRA ANTI-FOG COATING
In-house Designed ULTRA ANTI-FOG COATING
can bring you an advanced 3x fog-free performance.
Triple-layered microfiber foam
design can maximize the venting to ensure a fog-free experience.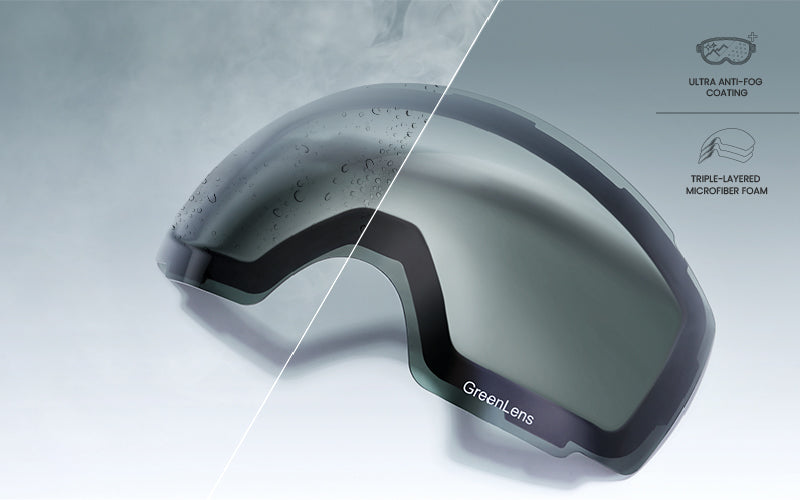 MAGNETIC INTERCHANGEABLE LENS SYSTEM
With the use of the quick release
magnetic frame
design, you would be able to change out lenses efficiently at a fraction of the time of alternatively mounted options.
Choose among Pro series
various stylish lenses
primarily aimed at offering exceptional clarity during different lighting changes. Swap for day/night; different weather conditions; eco-conscious mind.
MAXIMUM SAFETY
100% UV400 protection
prevents harmful rays from coming into direct contact with your cornea. This has proven to provide athletes with a stress-free riding experience, by allowing them to focus more on the trail, than avoiding the sun!
Impact-Resistant Components, and Anti-Scratching Lenses,
allow for a more flexible and useful set of goggles to deal with any impact.
EASY FIT & INTEGRATION
The adjustable straps contain anti-slip silicone
and are designed to be compatible with most helmets on the market for maximum comfort.
Conscientiously designed with weight, aesthetics, as well as overall
aerodynamics
to offer the best ratio in performance to dollar goggles on the market.
WHAT YOU GET

1 x OutdoorMaster Ultra Xm Snow Goggles.
1 x Protective Case.
1 x Carrying Pouch.
Our CUSTOMER-FAVORITE 1 YEAR WARRANTY and friendly customer service.