2022 Best Beginners Paddle Boards: Our Top 5 + Buying Guide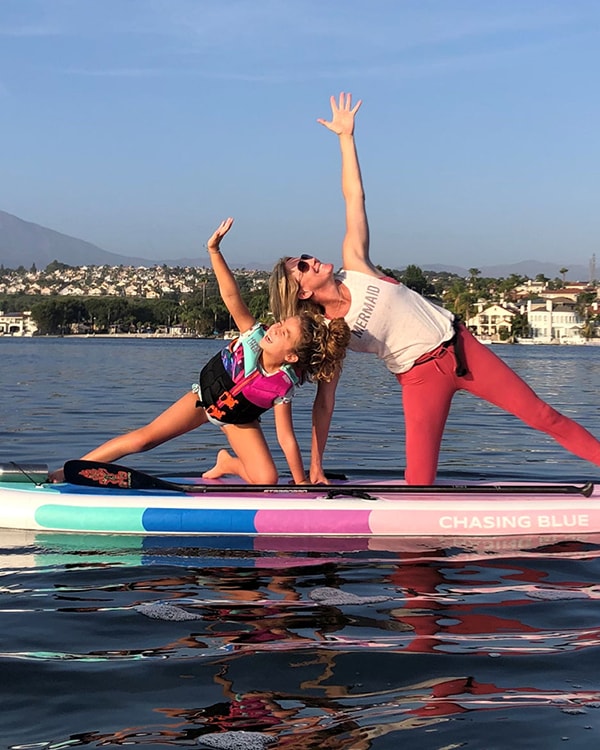 Are you looking for the best paddleboard for beginners? You are in the right place. This article will show you how to get a versatile paddle board that will give you the needed stability to feel confident on the water.
BEGINNER PADDLE BOARDS REVIEWS
QUICK SPECS:
Dimensions: 10'6 x 32″ 4.7″
Weight: 20 lbs
Weight capacity: 280 lbs
REASONS TO BUY
Budget-friendly
Rigid and durable
Its moderate size makes it suitable for anyone in the family
Traction pad covers most of the deck
The extra D-rings let you attach a kayak seat or more gear
Includes everything needed to start paddling and then some
The bag looks good and has wheels
Comes with a two-year warranty
REASONS TO AVOID
Its thickness of just 4.7" makes it not buoyant enough for heavier riders
The bag doesn't feel very high-quality
QUICK SPECS:
Dimensions: 11'6 x 34″ x 6″
Weight: 24 lbs
Weight capacity: 320 lbs
REASONS TO BUY:
Very stable
Affordably priced
Tracks straight
Glides nicely
Easy to paddle on calm water
Comfortable to ride
Its larger size makes it great for riders of all sizes
Can be used for different water conditions
Its large deck pad feels comfortable and provides ample traction
Automatic protection against over-inflation
Bag's wheels make it easy to pull to and from the water
REASONS TO AVOID:
Glue action mounts are less secure compared to fixed ones
Can be hard to maneuver for smaller paddlers
QUICK SPECS:
Dimensions: 10'6" x 32" x 4.7"
Weight: 20 lbs
Weight capacity: 280 lbs
REASON TO BUY:
Affordable price
Decent level of stability for its thickness
Its lighter weight makes the package transportable by almost anybody
Good quality for its price
Lots of storage and anchor points
Its thickness of just 4.7" makes it very easy to roll up
The kit bag is water-proof, heat-insulated and has wheels
REASONS TO AVOID:
The board limited rigidity makes it feel more sluggish when maneuvering
QUICK SPEC:
Dimensions: 10'6" x 30" x 6"
Weight: 19 lbs
Weight capacity: 280 lbs
REASONS TO BUY:
Affordable price
Takes very little effort to propel forward
Stable enough for beginners
Its lighter weight makes it very portable and easy to grab and take to the water
Takes less effort to turn and maneuver
Can suit different water conditions
The bungee sections provide a lot of space to secure your cargo
Deck pad is soft under the feet and also comfortable when kneeling
Automatic protection against over-inflation
You get a lot of accessories for your money
Bag wheels make it easy to pull to and from the water
REASONS TO AVOID:
Glue action mounts can be placed where you want them to be but they can be less secure compared to fixed ones
QUICK SPECS:
Dimensions: 10'6" x 35" x 6"
Weight: 22 lbs
Weight capacity: 320 lbs
REASONS TO BUY:
Ultra stable
Easy enough to carry
full-length deck pad feels like a yoga mat
The absence of the center handle makes lying flat on it much more comfortable
Plenty of space to maneuver your feet and hands
Cruises along very smoothly
The small front bungee area is useful to secure your dry-bag, flip flops, and a water bottle
Can automatically release air when over-inflated
The bag opens on all three sides, has wheels for easy transport, and can regulate the temperature inside
Comes with a lot of accessories
Reasonable price
Backed with a 2-year warranty
REASONS TO AVOID:
Its width of 35" makes it lose some tracking and maneuverability
The sides handles make carrying it while inflated a bit more of a challenge
No paddle holder to secure it out of the way when needed
Glue action mounts remains less secure compared to fixed ones
HOW TO CHOOSE THE BEST BEGINNER PADDLE BOARD
VERSATILITY
For beginners paddle boards, I recommend the all-around ones.

Unlike advanced paddleboards like surf, racing, or touring SUPs, all-around paddle boards let you enjoy a long paddle on a river and also play around with small waves or light rapids.

Moreover, you can also practice some fitness moves on, tour, fish, or bring another person or pet with you
INFLATABLE OR SOLID
With the latest technologies, inflatable paddle boards become the go-to choice for multiple reasons, they include:
Easy Storage: Once deflated and rolled up, they become compact and can be stored in even a closet or a small car trunk.
Travel-friendly: The majority of inflatable paddle boards can be checked on an airplane or transported in a bus or car, and the ultra-compact ones can even be carried on your back when you are hiking to hard-to-reach paddling spots.
Durable: Unlike solid paddle boards, inflatable ones can withstand bumps up against rocks and logs.
Affordable: When solid SUPs start at $1000, inflatable paddle boards offer more value for your buck and their prices start at just around $300.
Beginner-friendly: Compared to solid SUPs, inflatable ones are a bit softer, which makes them less hurtful when you fall on them.
WHAT IS THE RIGHT SIZE PADDLE BOARD
There are a few things to consider when choosing the right size paddle board.
First, think about how you will be using the paddle board.
If you plan on doing mostly fitness on the board, then you will want a shorter and wider board. If you are planning on doing more touring or racing, then you will want a longer and narrower board.
Second, consider your height and weight. If you are taller or heavier, then you will need a larger board. Conversely, if you are shorter or lighter, then you will need a smaller board.
Finally, think about where you will be paddling. If you will be paddling in calm waters, then you can get away with a smaller board. But if you will be paddling in rougher waters, then you will need a larger and sturdier board.
As a beginner, the most important thing you should look at is board stability.
Major factors that play a role in the SUP board's stability are its length, width, thickness, and construction.
STABILITY
As a beginner, the most important thing you should look at is board stability.

Major factors that play a role in the SUP board's stability are its length, width, thickness, and construction.

LENGTH
The longer a paddle board is, the more stable it becomes. This doesn't mean you should opt for the longest paddle board on the market because it is hard to maneuver. For you a beginner, I recommend you a paddle board length of 10' to 12', depending on your size.

WIDTH
The best paddle board width for beginners should between 30" and 34".
The extra-wide inflatable paddle boards are slower in the water and can affect how you execute your paddles and narrow ones can be unstable.


THICKNESS
Even though the thickness is something that plays a huge role in the board's rigidity and buoyancy, many beginners overlook it.

For the best paddleboard for beginner adults, I recommend them a board thickness of 6", and 5" only if it is proven to be rigid and does not flex. For youth beginners, they can go with a 5" thick paddle board.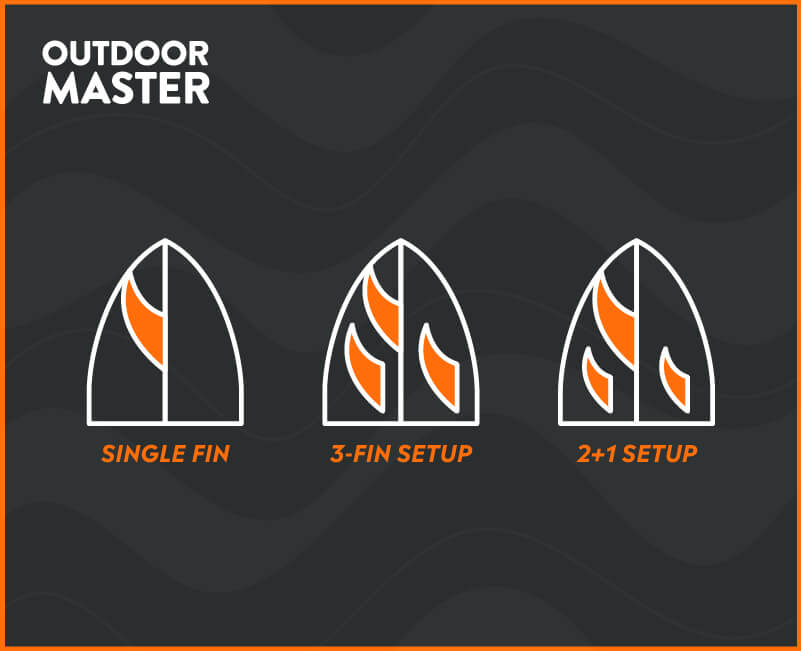 Fins help the paddle board stay stable and keep a straight line while paddling on the water. Larger fins that are long and have a wide base are more stable and provide more tracking abilities than smaller fins.

For you as a beginner, I recommend you the 2+1 setup. This fin configuration gives you more adjustability depending on the water and makes the board easier to store.
HULL TYPE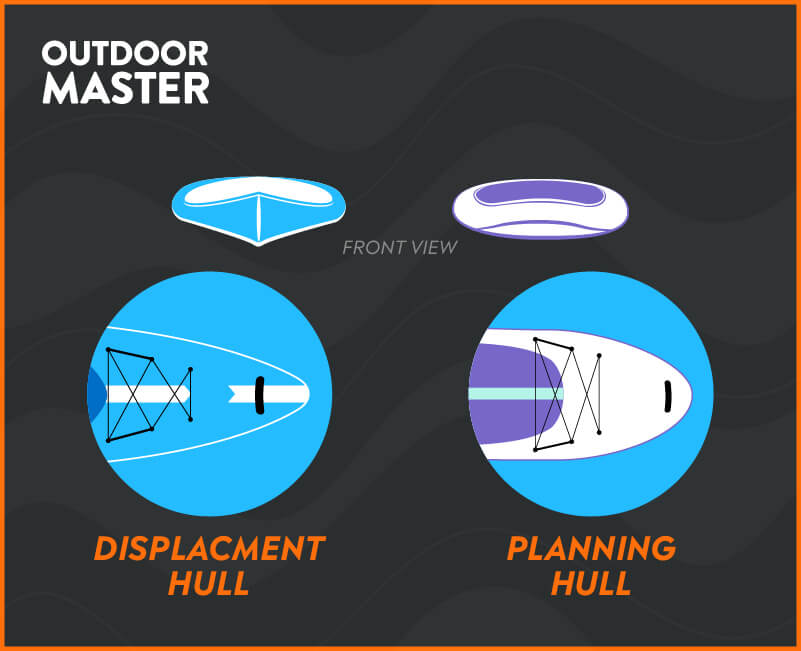 The hull type plays a major role in how your SUP will perform in the water. The one I recommend to you as a beginner is the planing hull, it is flat and wide.

Unlike the displacement hull, a planing hull rides on top of the water, which makes your board more maneuverable and more stable.
PADDLE BOARD WEIGHT LIMIT
Every paddle board has a weight limit that it can support before starts losing a lot of its performance or start sinking.
Once you know the weight limit, be sure to stay within that limit when paddling. This will help you to avoid tipping over or damaging your board.
When you are calculating your ideal SUP's weight limit, start with your body weight, and do not forget to include the weight of any gear, paddler, pet, or water you will have with you.
The weight limit for paddle boards varies depending on the type of board. For example, inflatable paddle boards have a higher weight limit than solid boards.
ACCESSORIES
Paddle
The SUP paddle material plays a huge role in how light and durable it is.
Since durability is more important for beginners than how lightweight a paddle is, I recommend you get an
aluminum shaft paddle
because it is
durable enough, affordable, and lightweight
at the same time. If for whatever reason you want a lighter and stiffer SUP paddle, you can go with a fiberglass or
carbon
one.
In terms of length, the correct paddle length for all-around use should be about
8 to 12 inches taller than your height
.
PUMP
All kit pumps are hand ones.
The best hand pumps are the dual-chamber ones with triple settings. The first setting is for when you are just starting, the second one is when the board starts to get its shape, and the last setting is useful when you want to top it off.
If you have some money, the first upgrade to think of should be the electric pump.
Having an electric SUP pump let you inflate your board in less time without worrying about over-inflating it if it has the auto-shutting feature. Outdoor Master is the leading brand of electric SUP pumps, with over 2,000,000 units sold,
Shark II
is now the
most popular e-pump
among SUP enthusiasts. 
LEASH
A SUP leash is what keeps your board close to you when you fall from it.
Apart from not losing your SUP, keeping your board close to you can be important for your safety. If you
SUP with your dog
, you will definetly need a
dog leash for SUP
. Your paddle also need a leash called
paddle leash
. You know, some
carbon fiber paddles
are expensive! You'd never want to leave them behind. 
The best SUP leash is one that has a dual swivel, a coiled cord, and a soft cuff.
HOW TO CARE FOR INFLATABLE PADDLE BOARD
Assuming you have already purchased your inflatable paddle board, you will need to take a few extra steps to care for it properly.
First, always make sure to rinse off your board after use, especially if it has been in salt water. This will help to prevent damage and keep it looking like new.
Second, when not in use, store your board out of direct sunlight. The sun can cause the material to break down over time.
Third, once or twice a month, give your board a thorough cleaning with soap and water.
Be sure to pay special attention to the seams, as this is where dirt and grime can build up the most.
By following these simple tips, you can enjoy your inflatable paddle board for years to come.
GIFTS FOR PADDLEBOARDERS
If you know someone who loves to paddleboard, they would appreciate a gift that helps them enjoy their time on the water.
● A SUP leash is a great option, as it ensures that the board doesn't get away from the paddler if it should happen to fall off.
● A SUP cover is another good choice, as it helps to protect the board from sun and weather damage when it's not in use.
● And for those who like to paddleboard at night, reflective safety gear is a must-have.
So whether you're looking for a practical gift or something to help your favorite paddleboarder stay safe, these ideas are sure to please.
CONCLUSION
That's all for this article, if something is not clear for you or if you need further help, let me know in the comments below. I highly recommend you to check this
Chasing Blue iSUPs page
, you will find more useful information over there. Also, don't forget to join our
SUP-dedicated Facebook Group
. See you in the comments.
Related blogs