There's no doubt that there are some pretty cool ski and snowboard goggles on the market. However, it's very easy to fall into the trap of looking like everyone else. So why not wear some artist ski goggles that are tasteful, artistic, and offer outstanding optical performance and comfort?
With the right pair of snow goggles, you can stand out from the crowd for all the right reasons. That's why Outdoor Master has teamed up with artists Stevie Gee and Simon Beck.
Together we've blended technical, high-performing optics with unique designs in these artist ski goggles.
Who Is Stevie Gee?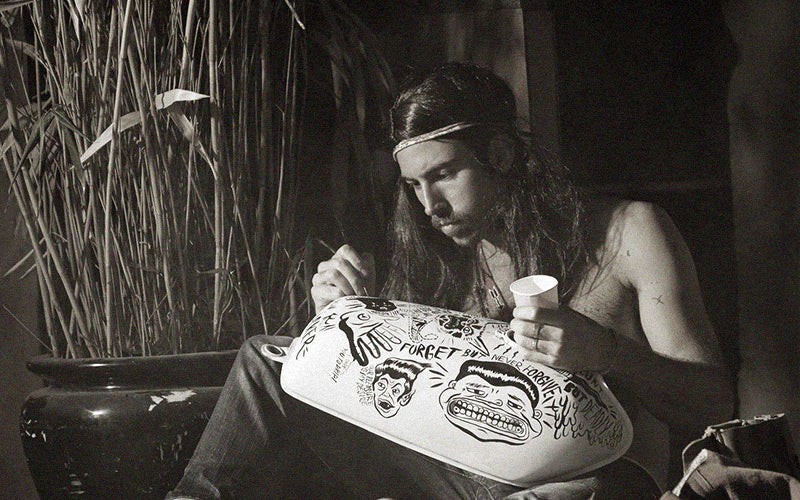 Stevie Gee is an internationally renowned artist who has exhibited his work in New York, Berlin, Bali, Los Angeles, Paris, Tokyo, and London. He has designed products for some of the biggest names in the action sports and fashion world, including Outdoor Master.
His art isn't limited to design, as he has a passion for animation and contributing to music videos.
Who Is Simon Beck?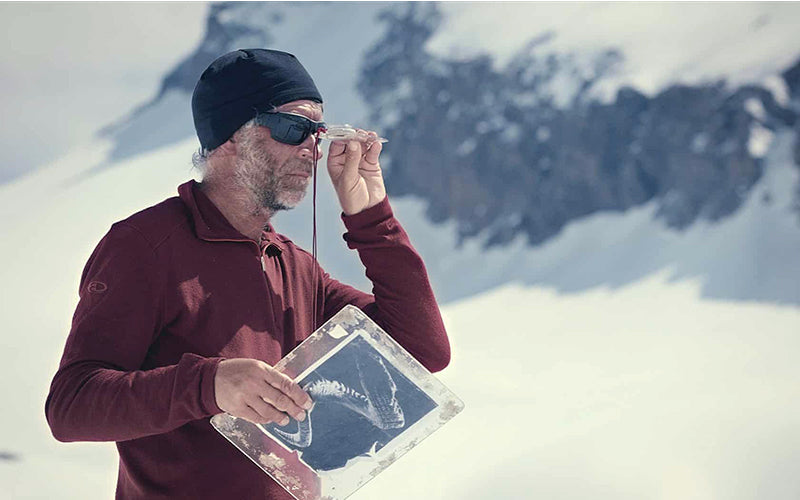 Simon Beck is a British artist known for his snow art. The former civil engineer and cartographer creates landscape drawings and sculptures in snow and sand. 
His creations are massive and awe-inspiring, taking days to complete. His method involves carefully walking around in snowshoes, leaving his mark in untouched snowfields, primarily in the French Alps.
Simon creates about thirty designs in the snow every winter. Each piece is a giant geometric pattern that requires him to walk dozens of miles in deep snow.
A Close Look At The Outdoor Master Artist Ski Goggles
The Outdoor Master X Stevie Gee Artist Ski Goggles
The Master X Stevie Gee artist ski goggles come in four designs exclusive to Outdoor Master. Stevie Gee's art is depicted on the goggle strap and features bold colors and illustrations that look fantastic and compliment the variety of lens colors available.
Stevie has taken inspiration from the various experiences and feelings you have when in the mountains. 
Meltdown - "Feel flows." This reminds us of global warming and how precious and fragile our icepacks and snowy landscapes are. 
Flower Power -"Feel the power." These goggles depict smiling flowers in fun colors to bring you natural power on the slopes.
X-Ray Eyes - "See the unseen." The design on these goggles is quirky and cool, giving you "eyes in the back of your head" so you can see the world behind you.
Mountain Playground -" Walk the string, not the bow." Just jump off everything you see on the slopes!
Lens Technology
The X Stevie Gee artist ski goggles are not just for show, as they offer incredible optics thanks to a variety of technologies used in the lens. 
To start with, you can expect improved brightness and the ability to see the contours in the snow. This is thanks to Outdoor Master's Color Optimization Technology used in the UltraLens. Therefore, you can see imperfections and dangers to avoid while you shred the mountain.
You get Super HD Technology if you choose the UltraLens, GreenLens, or SensusLens. This provides you with excellent clarity and enhanced contrast, and zero distortion. So you will be able to see everyone around you checking out your fancy new goggles.
If you choose the SensusLens, you don't have to change your lens to suit the lighting conditions. It automatically and constantly changes its darkness depending on its exposure to UV light. So when you ski out of the sun and into the shade, the goggles ensure you have the optimum amount of light entering your eyes.
Better For The Environment
The GreenLens and SensusLens options allow you to do your bit for the environment, as they are made from innovative TAC sustainable materials. This is formulated from cotton extracts, which is a much better alternative to the traditional PC material.
High-End Anti Fogging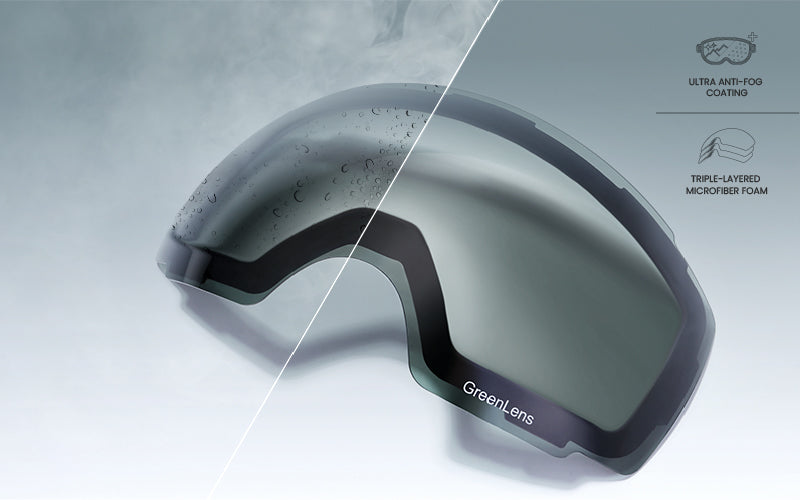 The UltraLens, GreenLens, and SensusLens are equipped with our Ultra Anti-Fog coating. This provides you with 3X fog-free performance, which is helped by the triple-layer foam that seals your face from the elements while maximizing ventilation for total clarity.
OutdoorMaster X Simon Beck Artist Ski Goggles
When you see Simon Beck's artistic creations from the chairlift, you will understand his thought process with coming up with the four designs for these goggles. 
The designs are called "Flying Triangles," "Bouncy Triangles," and "Star Road." Star Road comes in either Black or Lightsteelblue. These patterns are based on Simon's vast pieces of snowshoe art you may be lucky enough to see when visiting the French Alps in the winter.
Lens Technology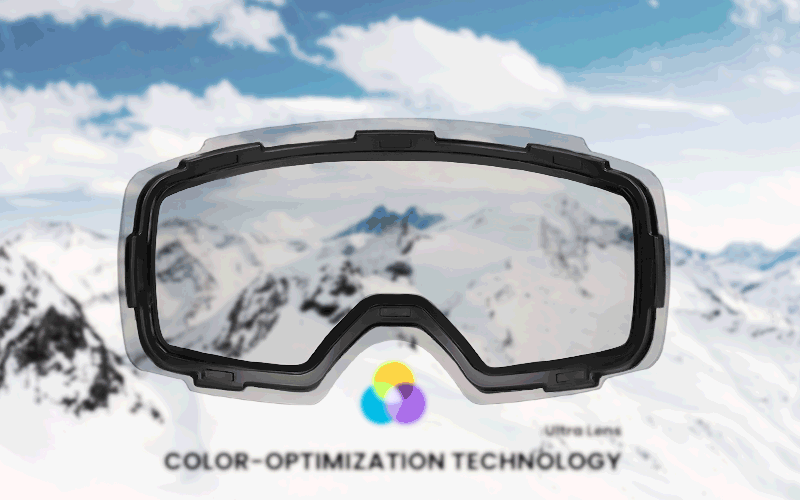 Depending on your preferences, you can choose UltraLens, GreenLens, or SensusLens. The UltraLens features Color Optimization Technology for improved brightness and the ability to see details in the snow. 
All three lenses have Super HD technology for high-definitions vision and clarity. This gives you clear visibility at all distances, even when you're straight lining it to the après bar at the end of the day.
The lenses all have a high-end anti-fog coating, which works hand-in-hand with the triple-layered foam to give you fog-free vision. 
Change Your Lens In An Instant
If you find yourself in highly changeable light conditions, you can quickly change your lens to suit. These goggles use a magnetic interchangeable lens system, so you can switch between low-light and dark lenses as you please. 
Ultimate Protection
All lenses available protect your eyes from 100% UV400. This gives you peace of mind that your eyes are not being damaged by the sun reflecting off the snow.
The lenses are resistant to scratches and impacts; therefore, you will be able to enjoy many seasons with them before you need to replace the lens.
FAQ
Are magnetic ski goggles any good?
Magnetic ski goggles have magnets arranged around the frame, attracting metal tabs fitted to the lens. The magnets are strong enough to secure your lens, even in a crash, but allow you to snap it off when you want to change it.
Magnetic ski goggles are great when you want to quickly change your lens to suit the light conditions. There are virtually no drawbacks to this system.
What color lens is best to reduce glare from the snow?
Blue lenses are best for reducing glare. But you should look at the lens technology the manufacturer uses. For example, color optimization technology, polarization, and super HD technology help with clarity and definition.
Why do ski goggles have two lenses?
Snow goggle manufacturers use double-layered lenses to prevent the lens from fogging.