7 Best Places to Paddleboard In The USA
Paddle boarding is one great way to gauge your skills and strength while exploring the beautiful landscapes the earth has to offer. Fortunately, there are many fantastic places to paddleboard as the game continues to become more popular every day.
In order to enjoy this fully, you'll require a robust and well-functioning Sup Pump and Board. As much as a hand pump is handy, it's better to use an The Shark II SUP Electric Air Pump for a faster, easy, and more fulfilling experience. A fantastic paddle boarding vista is meaningless if you don't have the right sup board, you can end up having a dull and tiresome adventure.
Now, are you ready to experience a fun paddle boarding experience at the most picturesque vistas? We got you; read on to learn some of the best places to paddleboard in the USA and the most effective sup pump for a thrilling experience.
7 Incredible Places to Go Paddle Boarding in the USA
Most individuals are familiar with this activity today, and as more people embrace it, more paddleboards rentals and destinations emerge. This is nice since most people can go to big sup quests, even those who don't own their own gear.
Below are the top 7 places to paddleboard in the US, all selected basing on user's experience, water and weather conditions, traveling ease, ease of renting equipment, restrictions of motor vehicles, and the vista's beauty. Your work will only select one location you prefer and have the most remarkable paddle boarding experience ever.
Glacier bay in Alaska
Glacier Bay is a scenic place to go paddle boarding because of the giant icebergs and glaciers. You should be geared with your best cold-weather wear to comfortably explore the destination's view and fun islands for this adventure.
Traveling to Glacier Bay greater park can be a bit challenging since you'll need to take a ferry or directly fly to Gustavus, but totally worth the struggle. Other than fishing, Glacier bay is full of beautiful wonders and sights that will blow your mind.
However, for a full experience, you should ensure a sturdy paddleboard and sup pump. There's the probability of seeing various wildlife in the glacier, for example, wild bears, harbor seals, and humpback whales.
The average number of days with clear weather yearly is 86, motor vehicles are allowed, and it's only a 30 minutes fight from Juneau city. You'll need to come with your paddleboard since they don't offer the renting option.
Lake Powell in Arizona and Utah
Lake Powell is among the most fantastic paddle boarding places worldwide. This scenic place emerged due to wind erosion and carving out of volcanic in the Colorado River millions of years ago. The scenery is over 250 miles of desert paradise and the most extensive shoreline on the N. American west coast.
The red rocks and canyons you'll explore in Lake Powell are some of the best views ever. It has the clearest days throughout the year (264 days), there are paddleboard rentals, motor vehicles are allowed, but a bit of a drive to major cities (approximately 2-2.5 hours to St George.
The warm weather and water in Lake Powell are not only great for paddleboarding but swimming too. You can visit this place to experience paddling red rocks and canyons while in the desert.
Lake Tahoe in California
Lake Tahoe is great places for paddle boarding during summers. The lake's clear waters and the stunning mountains surrounding its 191 square miles of land make the destination a great paddling location. It only takes a short drive/flight from Sacramento and Reno to Lake Tahoe, so anyone can easily access it, even out-of-state visitors.
It has more than 200 clear weather days, paddleboard rentals are available, and motor vehicles are also allowed. This destination is excellent for everyone who wishes to enjoy spending time in a clean lake but can withstand the cold weather.
Hoover Dam in Nevada
Other than being a popular tourist attraction destination, Hoover dam is an incredible spot for paddle boarding too. Its warm weather, lake mead, reservoir, and paddling vendors make the place ideal for skill testing, sup yoga, enjoying, and exploring the great canyon area. The vendors also offer paddleboarding lessons to starters. It only takes 15 to arrive at I Hoover dam from Boulder city and 45 minutes from Las Vegas.
Grand Teton national park in Wyoming
This place is excellent to paddleboard, particularly for individuals living wildlife, cool waters, and rocky mountains combined. This park has more than 100 easily accessible lakes with varying views and structures, all offering different experiences. For example, Two Ocean lake is great for yoga, and Jackson lake is great for windsurfing.
Vehicles are not allowed in areas of this destination, so it's best to check before starting your tour. It's a 2hours drive from Idaho falls and 5 hours from Helena, with about 180 clear weather days annually.
Tennessee River in Alabama and Tennessee
Do you know Alabama has some of the most excellent supping sports in the country? River Tennessee's average depth and enormous length make it the best paddling sport in the US. It is near many major cities; therefore, you can easily paddle while exploring other significant towns in the country, for example, Florence, Waterloo, and Decatur.This boarding place is a great choice for paddlers looking for the best touring quest and improving skills.
Hawaii
Hawaii is a tropical island and a great surfing and paddling location. Some of the picturesque places to paddleboard in Hawaii are Ala Moana, Sunset beach, and Hanalei River and Bay.
Why a robust sup electric pump is essential for paddle boarding
A sup pump is a crucial accessory for SUPs and inflatable boats. However, an electric pump is more effective, faster, and easier to use than a manual one. One of the most effective electric pumps in the market today is the OutdoorMaster THE SHARK II High-pressure Air Pump. This air pump is known for its super speed, effective cooling system, adaptability, and high-end specs for optimum and convenient use.
Features of a good sup air pump
SUP is among the quickest and fun leisure activities globally, ad its popularity makes it easy for manufacturers to produce mimic accessories, including sup pumps. A good sup pump should have exclusive features that ease the pump's usage and functioning.
If you're looking for a robust sup air pump, the Shark II can be the best option. It has incredible features that distinguish it from many other pumps.
These features include;
Digital display
Compact size
Can handle more pressure, 20 PSI maximum
Important valve connectors; C7 valve, H3 valve, Pinch valve, and a Boson valve
1-year warranty
30 minutes usage time (continuously)
Advantages of using a Shark II air pump
The Shark II Electric Pump is ideal due to its versatility, features, and functionality. Some of the advantages of using this air pump include;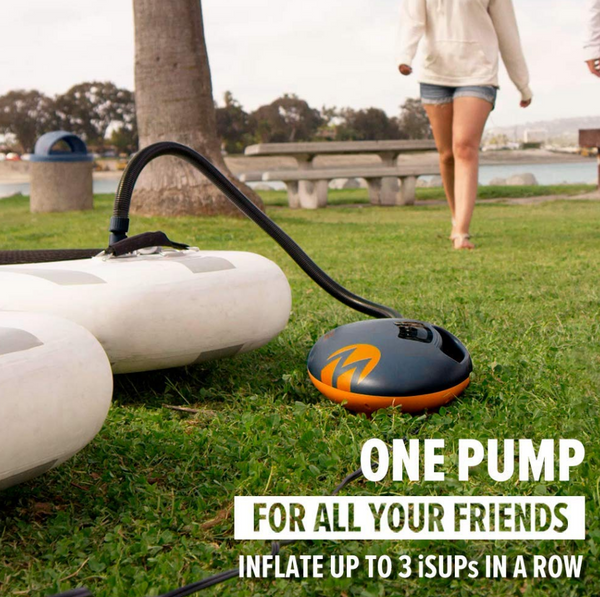 Superspeed
Unlike most sup board pumps, the Shark II incredibly fast; it can take at most 7 minutes to fill a paddleboard. Most pumps usually take 15 minutes or more to inflate sup. This pump quickly inflates SUPs while maintaining optimal pressure.
Automatic shutoff
Once you set the desired PSI you want, that's it. The pump will automatically shut off immediately it reaches the set reading. You can use that inflating time to prepare other paddling accessories without worrying about switching off the pump manually.
Incredible cooling system
A sup pump's cooling system matters a lot. If it heats up quickly, it becomes hard to use it severally continuously. The Shark II has the most advanced cooling system and can inflate up to 3 sup boards concurrently without overheating. The cooling system immediately starts overheating, which usually takes a few minutes for temperatures to drop.
Adaptability
This pump works for almost any SUP, regardless of type or brand. It has three-valve connectors, and you use it with a pinch valve and Boston.
It also comes with a 12V car connector to help you power it up then you're ready to inflate your SUP.
Eases deflation
Usually, you'll have to wait for your paddleboard to deflate slowly after hitting the waters. You can easily avoid this hassle with the Shark II air pump.
Accurate PSI values
The Shark II has two inflation stages for precise PSI reading. The first inflation is usually at a high rate until the pressure starts approaching the max level. The last step is slow for an accurate reading.
Ergonomic design
This sup pump is easy for people to carry and use it. It is not heavy (3.6 lbs), made from high-end ABS material, and has a hand handle. Such features make the pump easily portable, durable, and convenient for its purpose.