Why is Stand up Paddle Boarding so Popular?
A Brief on Stand Up Paddle Board (SUP) 
Stand Up Paddle Boarding, also widely known as SUP, is one of the fastest growing sports around the world now. Stand Up Paddle Boarding is basically for all levels of water sports lovers. What a SUP rider would do is just to stand upon a large paddle board and uses paddle(s) to maneuver through the water. 
A lot of evidence have shown that we human beings have a long history with paddle boarding. Some historians found that wooden paddle boards were used many centuries back by natives in ancient Polynesian culture, South America, and Africa to move from one place to another, and sometimes just to catch waves for fun. 
Although SUP was derived from paddle boarding, it has a much broader application of activities including the use of arms while kneeling, standing, or lying on a slender and long paddle board to move around the water. And in recent years, Yoga exercising on stand up paddle boards is also being widely applied. 
Some SUP enthusiasts take their dog with them when paddling.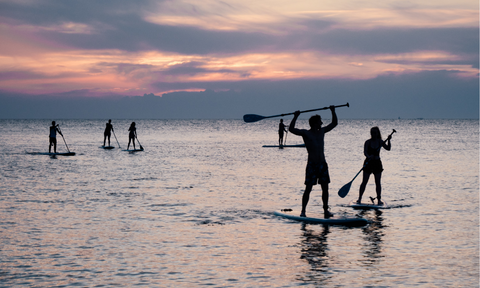 Why Everyone Falls In Love With SUP?
The statics in recent years have shown that Stand Up Paddle Boarding has become one of the fastest-growing sports, especially in North America and European countries. Why? The reason is fairly simple, SUP is for all! 
Today, stand up paddle boarding (SUPing) is not only for catching a wave, it can be enjoyed in flat oceans, rapids, lakes, rivers, canals, and even large swimming pools! SUP unlocks a lot more possibilities for fun on the water outside of surfing. 
With the new materials and new technology, the arrival of inflatable stand up paddle (iSUP) declares a new era for stand up paddle boarding. Now you can put SUP boards in a backpack and off you go to the water! Making SUP even more transportable and accessible for everyone.

Full Body Workout With SUP
Stand Up Paddle boarding is an ideal full-body workout. Not only it provides entertainment on water and improve your balance, but it also helps in stress relief, and offers a great way to socialize with your best friends, spend time with your family, dogs, or significant other. 
The versatility of Stand Up Paddle Boards makes it the perfect water sport to combine the exercise of both body and soul. You can go surfing, racing, touring, yoga, fishing, or kayaking (with a seat mounted) with SUPs, and more recently, SUP fishing and SUP Yoga have become very popular among solo and group activities.
Meditating or simply lying on the paddle board can guide you to experience peaceful solitude and a touch of Zen.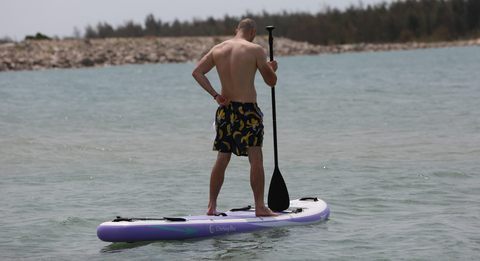 BEST SUP FOR BEGINNERS AND SKILLED
With the mission to make Stand Up Paddle Boards accessible for everyone, Chasing Blue was launched to make the best iSUP board for beginners as well as skilled SUP boarders. 
Chasing Blue offers a wide selection of inflatable stand up paddle boards for all sizes and levels, from leisurely paddle boarding on a calm lake or ride to catch some waves. 
Chasing Blue applies the latest drop-stitch materials that bring in even lighter and more durable SUP boards with strong anti-deformation and wear resistance abilities. It is an ultimate blend of performance, quality, and weight.
Make your day on the water like never before with Chasing Blue SUP boards!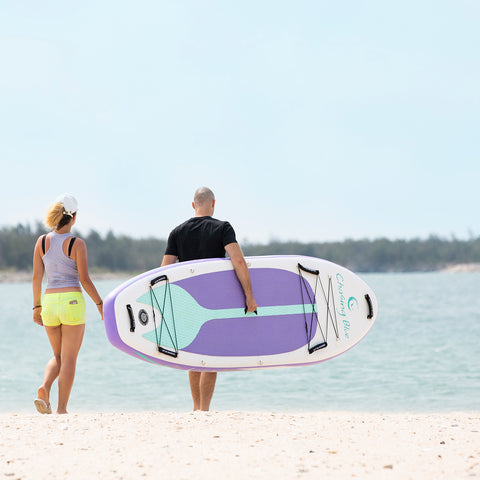 If you are interested in this SUP sports, don't hesitate to join our SUP Facebook group! 
You don't have an iSUP board?
We host giveaways every month! 
No friends to go with?
Go make friends with us in the group! 
Want to gear up yourself?
Sure thing, you can swap gears with our group members. 
Need a SUP mentor?
No problem, our group mentor will be happy to help your out!