Paddle boarding is enjoyable and can provide you with a lot of benefits in the long run. Here are some beginner stand-up paddle board tips to get you started.
1. GET THE RIGHT GEAR
YOUR SUP BOARD SHOULD BE A BEGINNER'S ONE
For you as a beginner, an inflatable all-around SUP is an ideal option. Check out the table below to have an idea of your appropriate SUP dimensions.
| | | | |
| --- | --- | --- | --- |
|  PADDLER | SUP LENGTH | SUP WIDTH | SUP THICKNESS |
| Kids under 10 | 7'5''-8' | 28"- 30'' | 4''-4.5" |
| Young Teens | 9'-10' | 30"-31" | 5-6" |
| Adults under 175 lbs. | 10'-12'6" | 31-33'' | 5-6" |
| Adults above 175 lbs. | 10'-12'6" | 32-34'' | 6'' |
Don't forget to check these all-around SUPs from Outdoor Master. They remain affordable while offering some premium features, like protection against overinflation.
I RECOMMEND YOU AN ELECTRIC PUMP
While a manual SUP pump gets the job done, electric SUP pumps are preferable. They are effective and will not require you to spend the majority of your energy pushing air into your board. As a result, you will not be fatigued when you are paddling on the water.

We can't talk about my best electric SUP pump without recommending the Outdoor Master Shark II, which is considered the best overall, not just by me but by many experts in the field.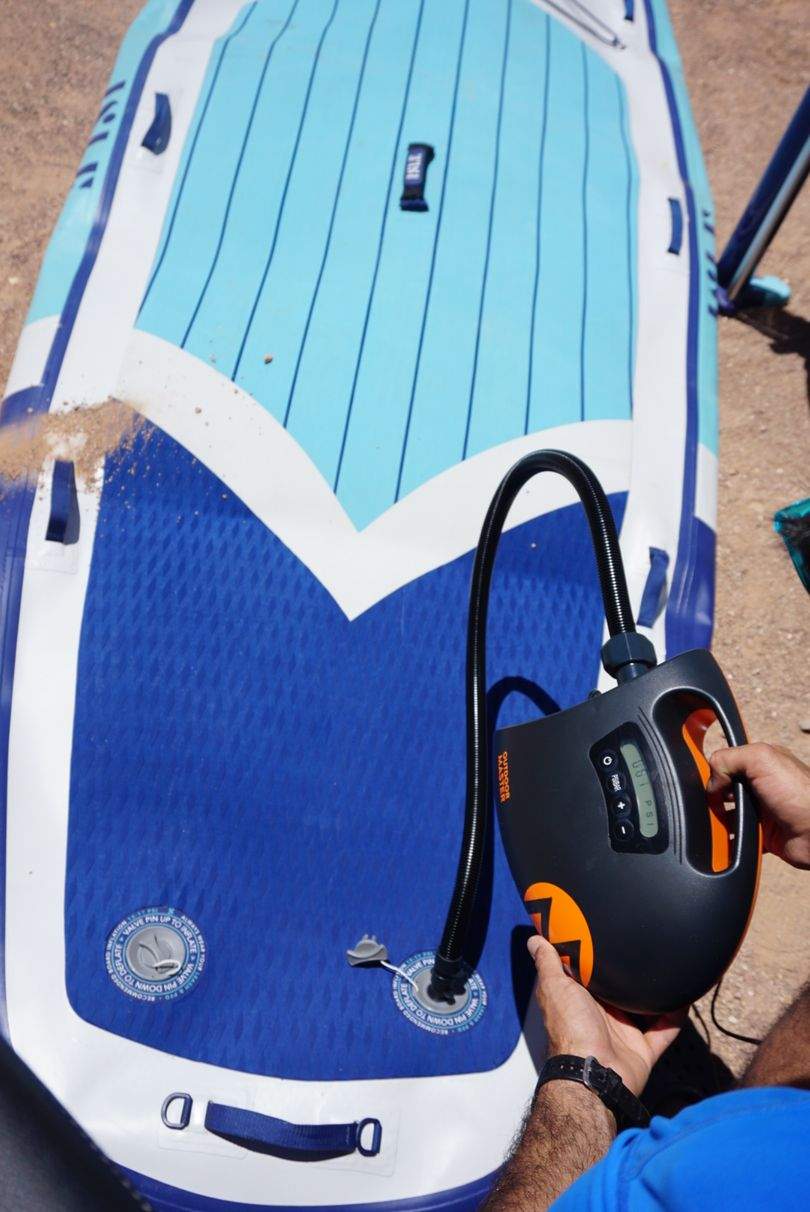 If you are short on money, you can go with the Outdoor Master Dolphin. It comes at an affordable price and still has helpful features like automatically shut-off when the desired air pressure.
2. CHECK THAT YOUR GEAR WORKS PROPERLY
Now that you have your gear with you at home, the first thing to do is to check that it does not have any malfunctions or defects.

Inflate your board using your pump and see if everything works as it should.
3. BE FAMILIAR WITH YOUR GEAR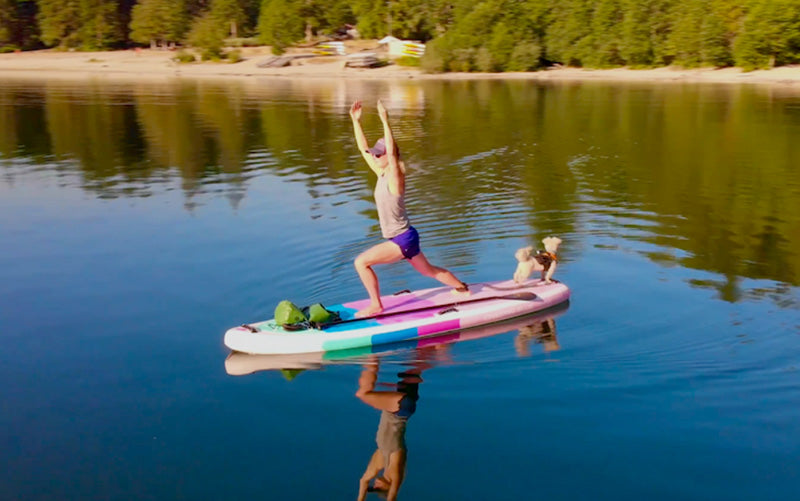 After being sure that everything works poperly, your should startbeing familiar with what you will use or have with/on you on the water.

Things that you should be familiar with include the clothes that you will have on you, the ankle leash, the camera if you will use it, the SUP board, and the pump.

After you wear your clothes and ankle leash, hop on your board and get familiar with it by kneeling and standing on it (detach your fins at this step to avoid damaging them). The other thing that you should be familiar with is your paddle. If you see that it will hurt you with prolonged use or because your hands are sensitive, get yourself a paddle boarding glove.
4. CHECK THE WEATHER FORECAST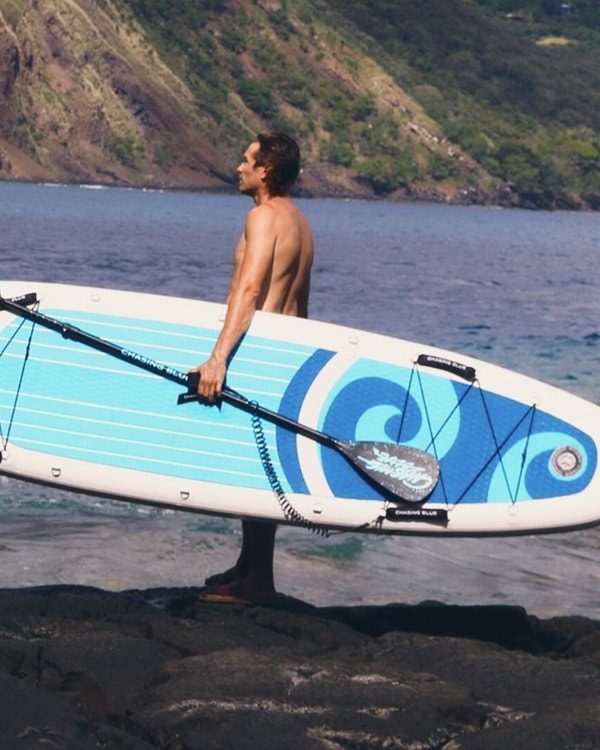 Now that you are familiar with your gear, the next step for you is to choose the right day.

Even the most experienced paddlers check the weather forecast before going out, and you should do the same as a beginner.

The speed and direction of the wind are two things to keep an eye on. Check to see if there are any possible storms in the area as well.

In any case, a sunny day with less wind is preferable for a start. Paddling against the wind is not a smart option if you have to paddle in a windy environment. Choose a spot where the wind is at your back and blowing in the same direction as you.

You want to learn in details how to check the wind before you SUP, check this article.
5. GO WITH A FRIEND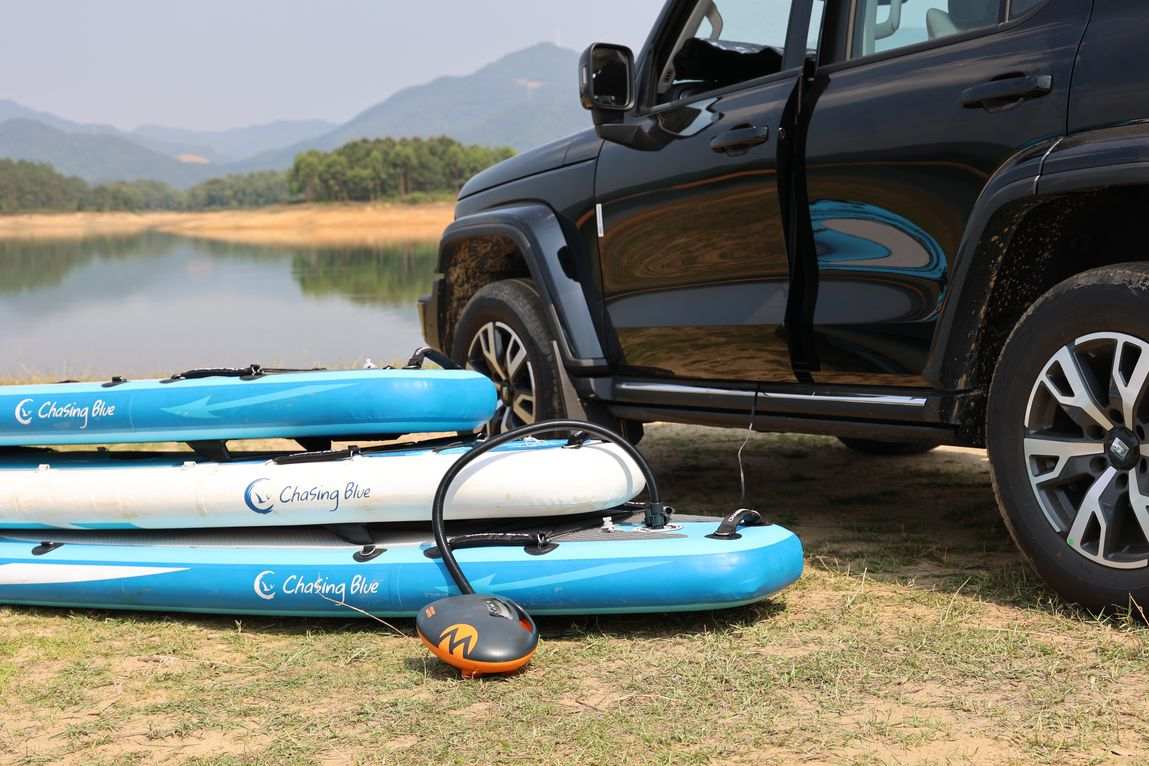 If you're new to stand-up paddle boarding, you might want to bring a friend along with you. They'll not only make the experience more enjoyable, but they'll also make it safer.
6. FIND A GOOD SPOT TO LAUNCH
When you're just starting out, you want to make things as simple as possible. To do so, begin by locating a particularly attractive launch location. Launching from a sandy, shallow beach on a calm day makes a lot of sense for beginners.

Recommended Articles:
7. ADJUST YOUR SUP PADDLE LENGTH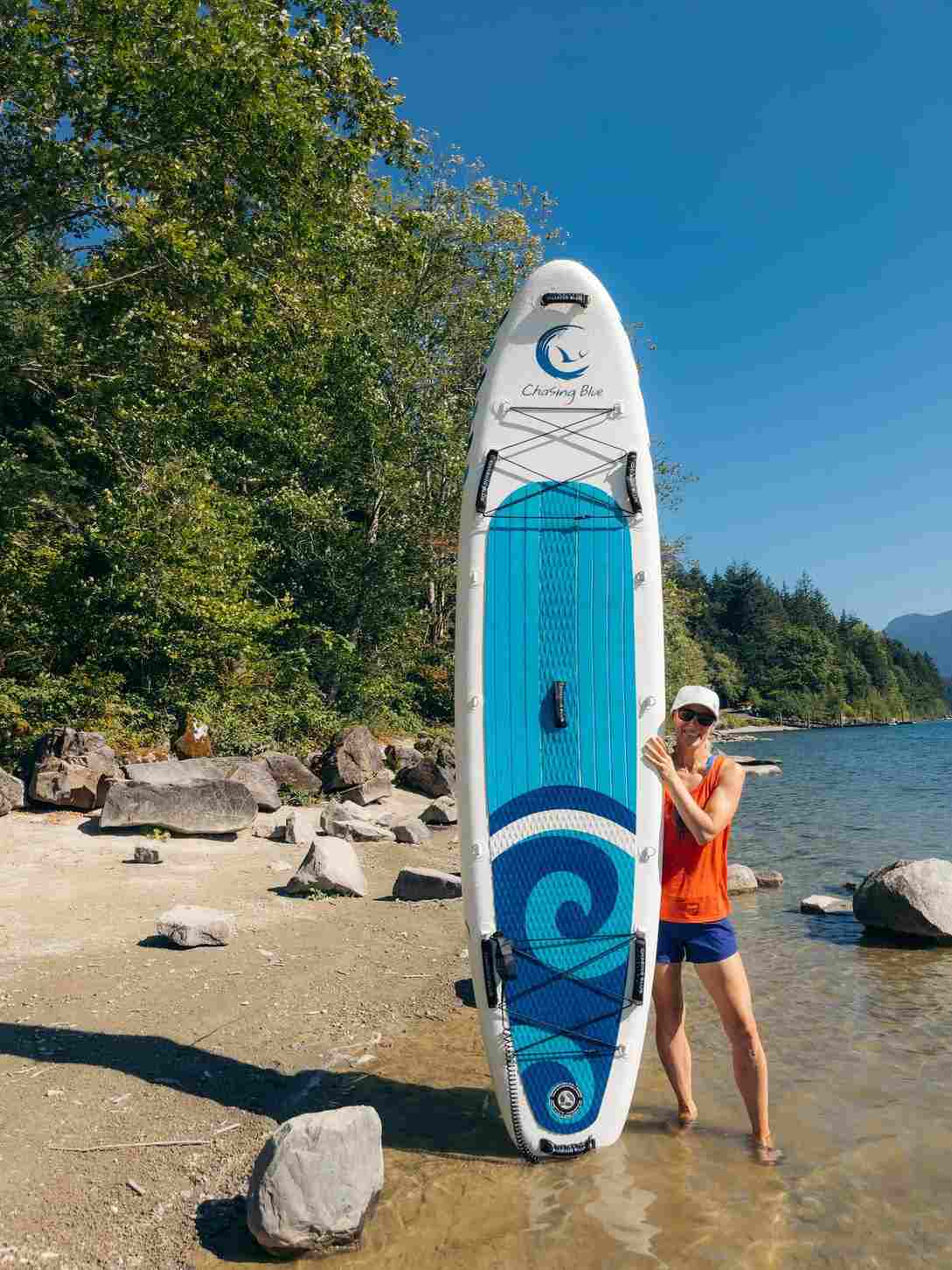 Adjusting your SUP paddle depends mainly on your height, arm length, the board's thickness, and the style of paddle boarding you intend to do. Since you are a beginner, you will be paddling with friends in flat and calm water. To adjust the paddle length for this, all you have to do is to raise one arm in the air like you're doing a pull-up.

At the same time, the other arm should be holding your paddle parallel to your body. Place your other hand on the paddle grip, blade down.

Then, stretch out the handle until your hand is parallel to the shaft and your hand is straight in the air. You're ready to go at this point.
8. ATTACH YOUR LEASH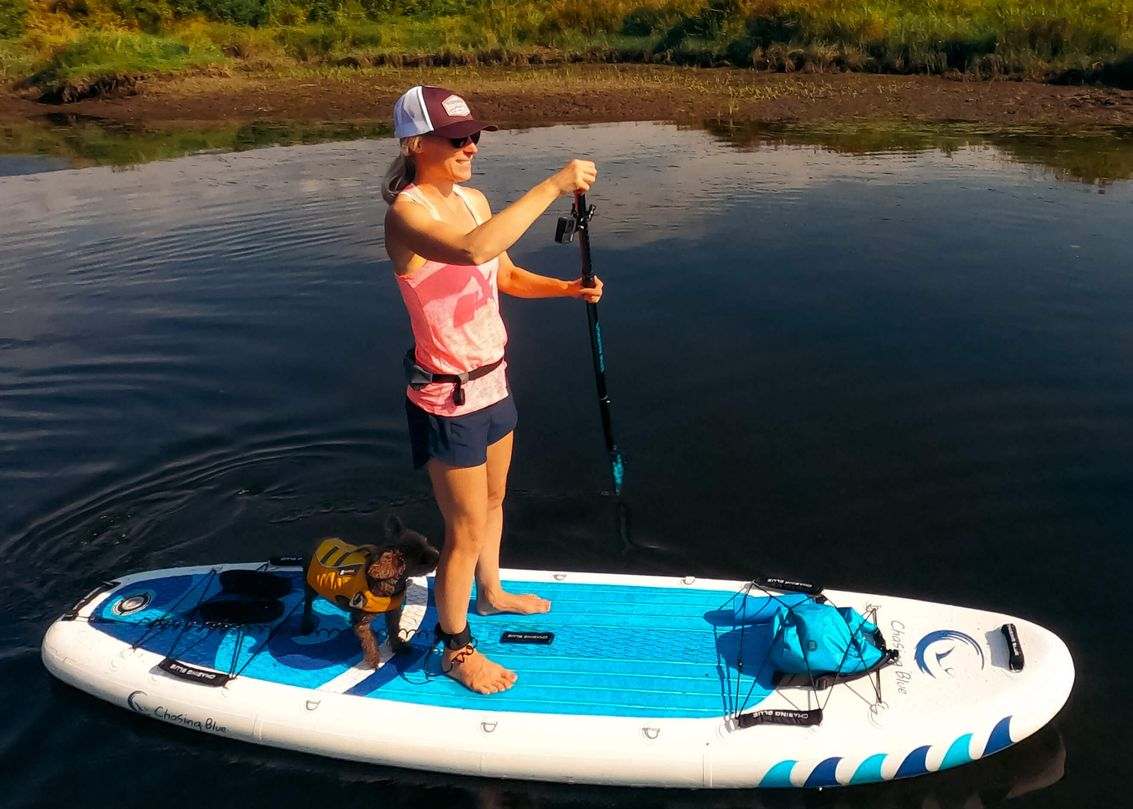 Make sure you're wearing this piece of safety equipment and that it's attached to your board when you're out on the water. If you fall, it helps you keep your SUP board close to you.

What you should know about leashes is that they are activity-specific, a one that is good for open water or flat water may not be the right one for surfing or whitewater.

For more information about different types of leashes, please check out this article.
9. MAKE SURE THE BOARD NOSE IS IN THE RIGHT WAY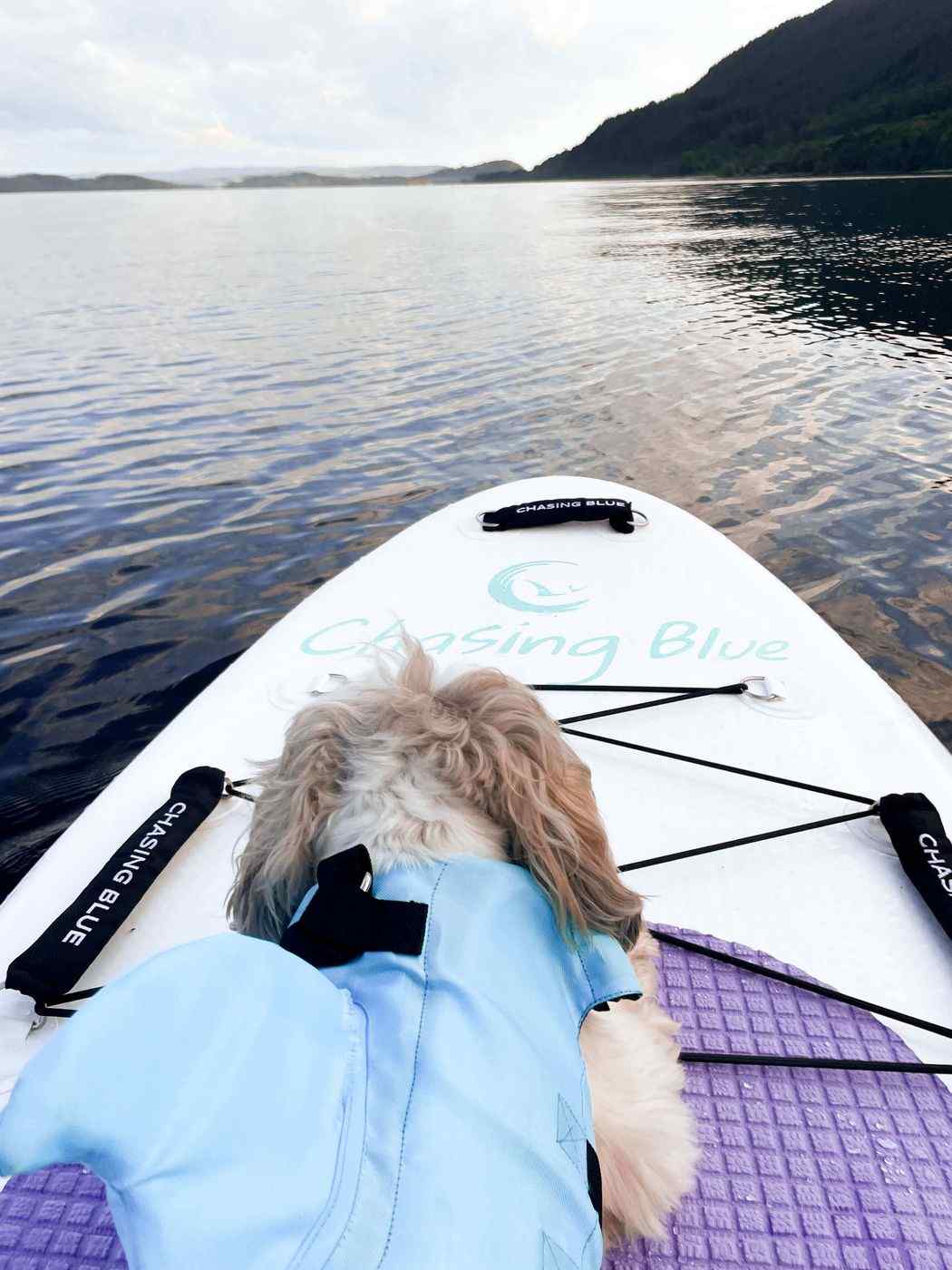 A board has the nose and the tail. Before you get on your board, it's a good idea to understand the differences. It is simple to distinguish between the two. The nose should always be pointing in the direction you want to go.
10. START ON YOUR KNEES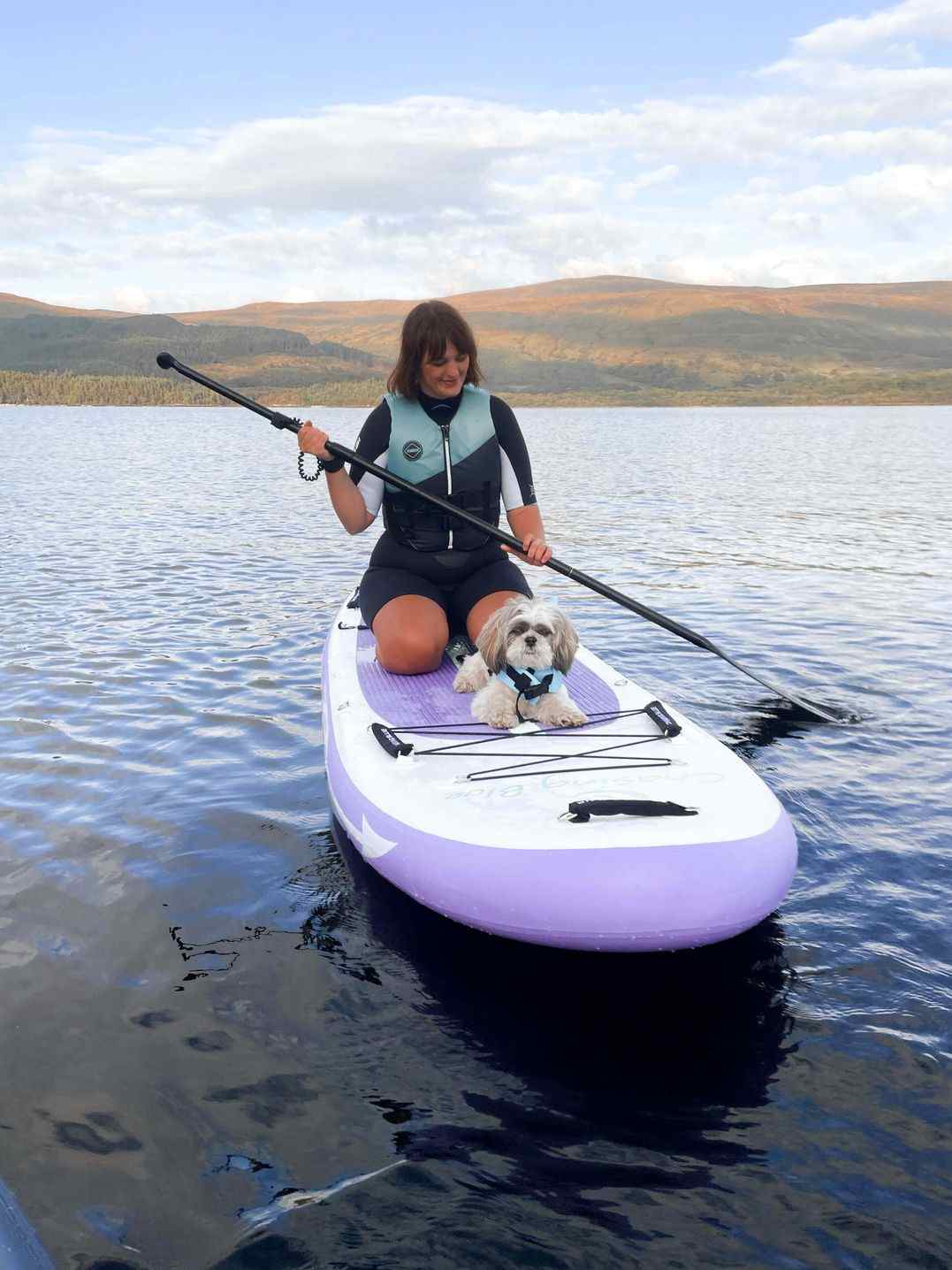 Naturally, getting acclimated to your board will be a breeze if you keep your center of balance as low as possible.

This is why it is better for you to stay on your knees till you start feeling confident in yourself.
11.
KNOW HOW TO STAND ON A PADDLEBOARD
Starting in knee-deep water is safer when you are not sure of yourself.

When there are no impediments near you, make your way to the center of the board, then gradually rise up one foot at a time with shoulder-width apart. Maintaining a slight bend in your knees at this stage helps with balance. Keep your core centered on the board as well to remain steady.
12. MAINTAIN YOUR BALANCE
It's difficult to keep your equilibrium when you're initially starting off. You, on the other hand, might be able to pull it off with ease. As soon as you get up on your board, make your first stroke with your paddle. This will enable you to not only go ahead but also maintain a more stable and balanced position, similar to that of a bicycle rider.

If you're having problems staying balanced, concentrate on your core. Each of your feet should be parallel to the ground (hip-width apart). Your toes must also be facing forward. At this moment, the knees must also be somewhat bent.
13.
KNOW HOW TO HOLD A PADDLE BOARD PADDLE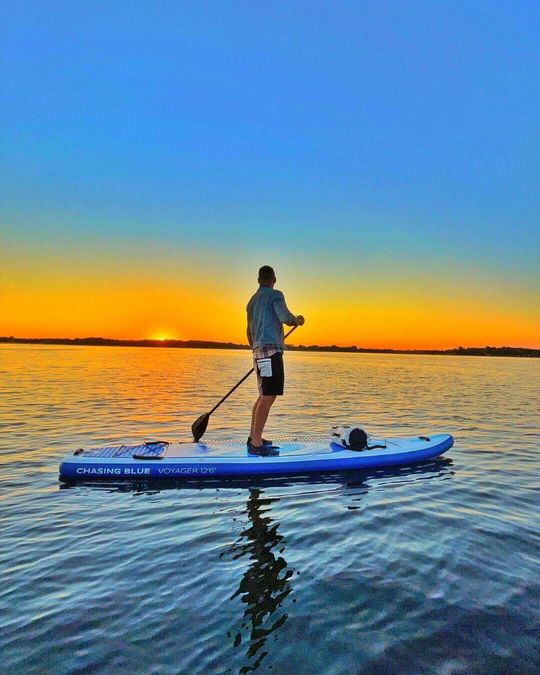 Inexperienced paddlers frequently handle their paddles wrongly. Hold the paddle with the blade pointed away from you rather than towards you to ensure you get it right. One hand should be on the paddle grip and the other down the shaft. You can then switch sides by rotating your hand position.
14. HOW TO PADDLE FORWARD
You'll need to do the following to pull this off effectively.
Keep your arms straight.
Second, move the top half of your arm towards your torso while you stretch the paddle forward.
To extend your reach, rotate the top shoulder forward.
Put your paddle as far forward as possible, burying it in the water, and push the paddle past you.
Lastly, take a few strokes on one side, then switch to the other side to keep a straight line.
15. HOW TO TURN WITH THE FORWARD STROKE
Let's say you want to turn to your left.

Plant your paddle on the right side of the water then rotate your torso to the left side to turn left. Maintain a low stance and pull to the right with your paddle, towards the tail, while twisting and tilting your body to the left. If you do this, the board will shift to the left.
16. HOW TO TURN WITH THE REVERSE STROKE
Let's say you want to turn to your right.

Plant your paddle at the water near the tail of your board and pull towards its nose while simultaneously rotating your torso to the right. As a result, the nose of the board will rotate to the right.

Keep in mind that it is better to bend your knees in order to make spinning the board easier.
17. KEEP YOUR HEAD UP
It's difficult for newbies to keep their head up and look straight. It's typical because you're probably afraid of falling into the water as a novice.

It is recommended to keep your head up. This will assist you in attaining optimal stability. Also, keep in mind that your body follows your gaze. It is simple, choose a focal point and begin paddling.

Also, keep in mind that your body follows your gaze. It is simple, choose a focal point and begin paddling.
18. FALL OFF YOUR BOARD THE RIGHT WAY
Even the most experienced paddlers will occasionally fall, but they will always get back up. As a result, you may want to learn proper fall techniques. Aim for the board's far side. The objective here is to fall off the board and not on it to avoid getting harmed as well as causing damage to your board.

While your paddle may float, you should always hold on to it if you fall (you don't want it to get away), but if it does, get to it fast before it sinks.
19.
HOW TO GET BACK ON A PADDLEBOARD AFTER FALLING
After falling, you want to get back on your board.

To complete it successfully, you must get closer to the board and towards the center. With one hand, grasp the middle handle and try to reach the other side of the board with your free hand while puling the center grab handle.

Now, let your legs float to the surface of the water and kick them while tugging on the handle to slide onto the board.
20. LEARN BASIC SAFETY SKILLS
If while you are SUP paddling you see another person struggling in deep water and you did reach him unexpectedly, he will overpower you with his panic and pull you underwater. The best thing you can do is to pull him to safety using a long object.

If you want to learn more, I recommend you check these 5 essential SUP safety tips.
21. BE MINDFUL OF OTHERS AROUND YOU
The rule is simple: always be mindful of others with whom you share the water. Maintain a safe distance from them, be courteous, and communicate with one another. Avoid colliding with other people's boards.
22. TAKE ADVANTAGE OF APPS
Whether you are a beginner or a pro, you can use this phone app to record data that you can analyze later like time, speed, and durations. It makes you also safer on the water by having the ability to fire an alert if you get into difficulty.

It s also easy to use, all you have to do is to hit the start button and stow it to do its magic.
This app has 25,000 paddling locations with comments from other paddlers and trip reports, making finding a great place to paddle near you an easy task.
I think from its name alone, you already guessed its main purpose.

This app provides the most comprehensive weather forecasts. You can use it to predict things such as rain, temperature, humidity, powerful wind, etc. If you are lucky and one of the Windy webcams is available in your SUP paddling destination, you can see what it looks like in real-time.
FAQ
- HOW TO PUT A PADDLE BOARD ON YOUR CAR
Most people think that putting a paddle board on your car is a difficult task. However, with a few simple steps, you can easily secure your paddle board to your vehicle.
First, remove any loose gear from your paddle board and make sure that the fins face up. Next, open the hatch or trunk of your car and lay out a towel or mat to protect the interior of your vehicle.
Once the area is prepared, gently place the paddle board onto the towel or mat and slide it into position.
Finally, use straps or rope to tie down the paddle board, being careful not to damage the board in the process. With these simple steps, you can safely transport your paddle board to and from the water.
- WHAT DO I NEED TO START PADDLE BOARDING?
To start paddle boarding, you will need a few things.
First, you will need a paddle board. You can either buy one or rent one from a local shop.
Second, you will need a life jacket and a leash. The life jacket is for safety in case you fall off the board, and the leash helps to keep you attached to the board so you don't lose it.
Third, you will need a paddle. This is used to propel yourself through the water.
Fourth, you will need proper clothing. You want to wear something that won't absorb water and that will provide some sun protection.
Finally, you will need to find a good spot to paddle board. Look for somewhere with calm water and no obstacles. Once you have all of these things, you're ready to start paddle boarding!
- HOW LONG SHOULD MY SUP BE
The length of your SUP will depend on a few factors, such as your height, weight, and the type of paddling you'll be doing. For example, racing boards are usually shorter than all-around boards, and wave boards are usually shorter than cruiser boards.
That said, a good rule of thumb is to add 6-12 inches to your height to get an idea of what size board you should get. For example, if you're 6 feet tall, a 12-foot board would be a good choice.
Ultimately, the best way to find the perfect board for you is to try out a few different sizes and see what feels best. With so many great options on the market, you're sure to find the perfect SUP for your needs.
That's all for this article, make sure to join our SUP Facebook Group, where our friendly staff and SUP specialist will give you the best support and help to get started!

See y'all.