Paddle Board Pump Electric Dolphin
DOLPHIN ELECTRIC SUP PUMP
20 PSI with best price for beginners
Features
MAX 20 PSI & HANDS-FREE PUMPING
This Electric Air Pump Compressor / Air Inflator with powers reaches up to 15 PSI and be able to inflate a 260L inflatable paddle board in about 10 minutes. Save your time and making your Hands free. No hand pumping and no sweat.
AUTOMATIC SHUT-OFF
It will shut off automatically, when the Board is pumping up to Maximal PSI. Let's pump more easily!
DIGITAL DISPLAY & PRECISE CONTROL
Use the digital electric air pump for inflatable paddle board to set your desired pressure and monitor the pressure in real time. PUMPING HAS NEVER BEEN EASIER!
12V DC CAR CONNECTOR & FULL SET NOZZLES
Connects to your car's 12V DC connector. Features a 12A fuse for increased safety. Comes with full set of nozzles to fit most high pressure inflatables including H3 valve.
CARRY HANDLE & SHOCK RESISTANT FEET
Features with carry handle on the top makes the transport comfortable and easier. The small feet on the bottom will reduce and absorb the shock when pump is working.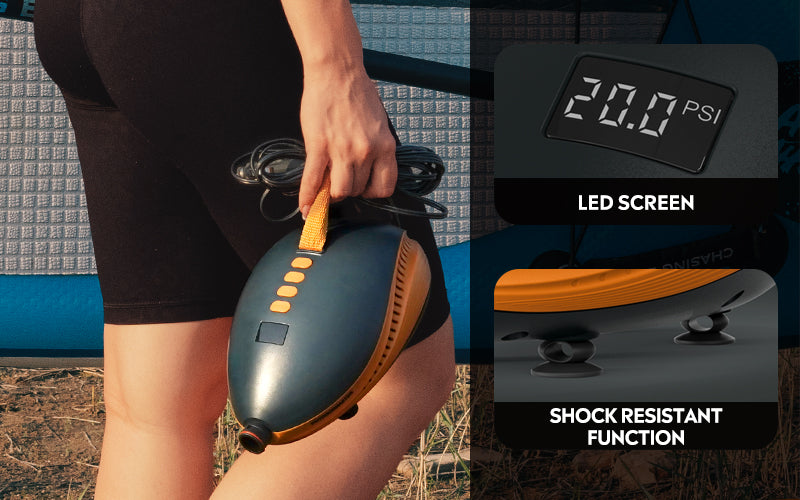 COMPACT DESIGN
Faster than most small air pumps on the market. Lightweight and easy to pack up.
ECO-FRIENDLY & TEST-APPROVED
The DOLPHIN has gone through rigorous testing and has CE certification. Durable quality and eco-friendly material offer a promising summer journey.
Specification
Supported Pressure Range
0.5-20 PSI (0.034-1.378 Bar)
Digital Sensor Accuracy
0.01 PSI
Max Energy Consumption
10A, 120W (12V), DC
Power Cord Length
9ft (2.75m), 4.5ft Hose
Dimensions
10.23 X 6.29 X 5.11 Inches
Nozzles Specs
1 X Boston Vavle
1 X C7 Vavle
1 X H3/HR Vavle
1 X Pinch Vavle
1 X 805 Vavle
Package Includes
1 X OutdoorMaster Dolphion
1 X 4.5ft Hose
5 X Nozzles
2 X Gaskets
1 X Manual
Fitted Board
Red Paddle, IRocker, ISLE, Bluefin
ROC, Nixy, Fanatic, Atoll, Bote
Body Glove, Peak, Dynamo, Fanatic, Hero
Hydro-Force, Advanced Element, Penguin, Thurso
Blackfin, Focus Hawaii, Sea Lion, Newport Vessels
SUP-YAK, SCOUT And Other Major ISUP Board Brand